by Maya Drozdz
Funded by local philanthropist Mary Emery and distinctive for its cohesive plan that incorporates town planning, architectural and landscape design, the Village of Mariemont, approximately 10 miles east of downtown Cincinnati, is an outstanding example of a garden city. The work of preeminent and pioneering American planner and landscape architect John Nolen and his associate Philip W. Foster, the village is the most complete, comprehensive, and intact example of Nolen's community designs. In keeping with English garden-city conventions and the American City Beautiful movement, his plan was executed with the highest attention to capturing scenic vistas.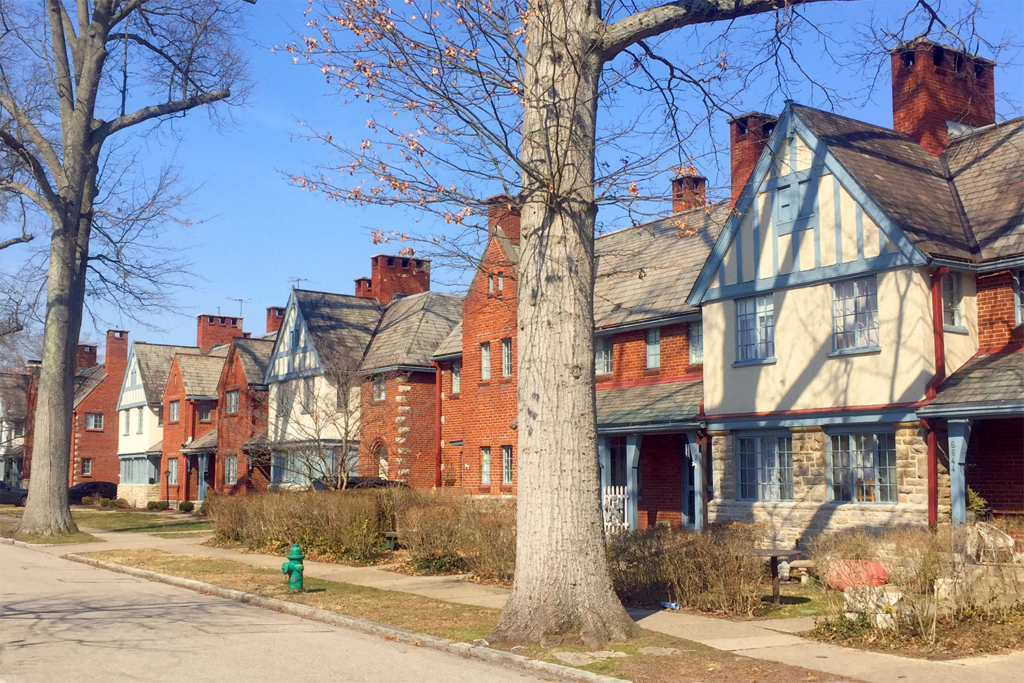 Bolstered by the vision and support of Emery and her advisor Charles Livingood, Nolen and Foster described their plan for Mariemont as "an interpretation of modern city planning principles applied to a small self-contained community to produce local happiness." A tall order, but the goal was a community that would welcome people of differing economic backgrounds, with a mix of singe-family homes and affordable apartments, accessible to but separate from the hustle and bustle (and noise and pollution) of the city.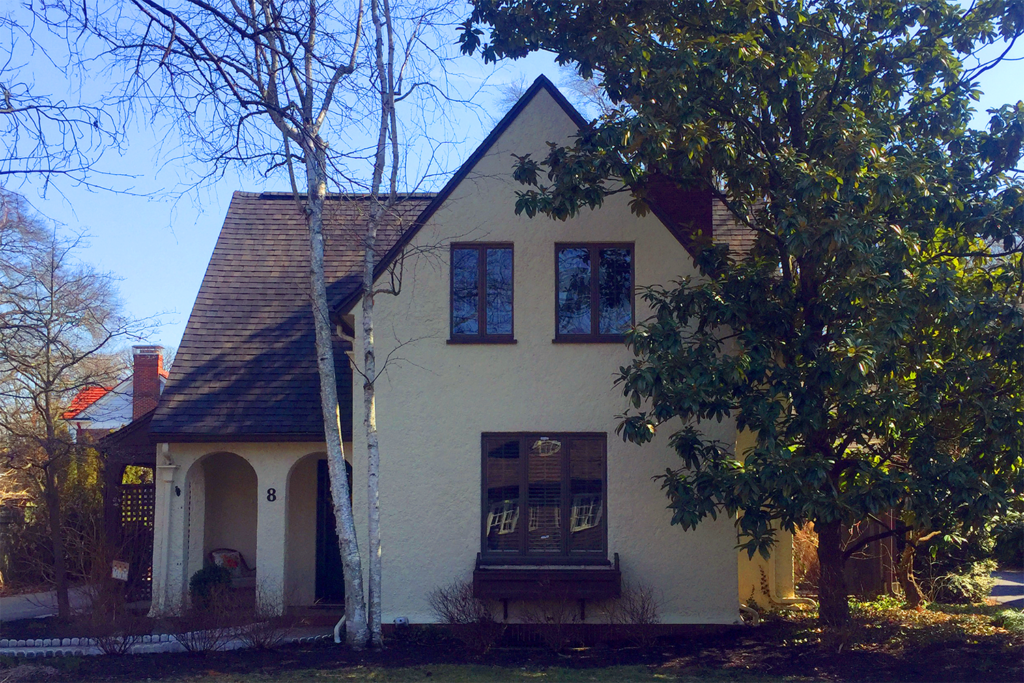 In 1866, Mary Muhlenberg married Thomas J. Emery, the son of a prominent local entrepreneur. His and his brother John's company, Thomas Emery's Sons, developed real estate throughout Cincinnati, leaving their distinctive mark on many neighborhoods that initially developed as streetcar suburbs. Thomas passed away in 1906 in Cairo, Egypt, while on a business trip, leaving his $20 million fortune to his wife, who spent decades mourning the deaths of her husband and two sons and donating generously to worthy causes, including local hospitals and colleges, YMCA, and the Cincinnati Zoo. Mary also funded the Christ Church parish house and the Emery Theatre. Upon her death in 1927, she willed to the Cincinnati Art Museum her $3.5 million art collection, which is now housed in its Emery Wing.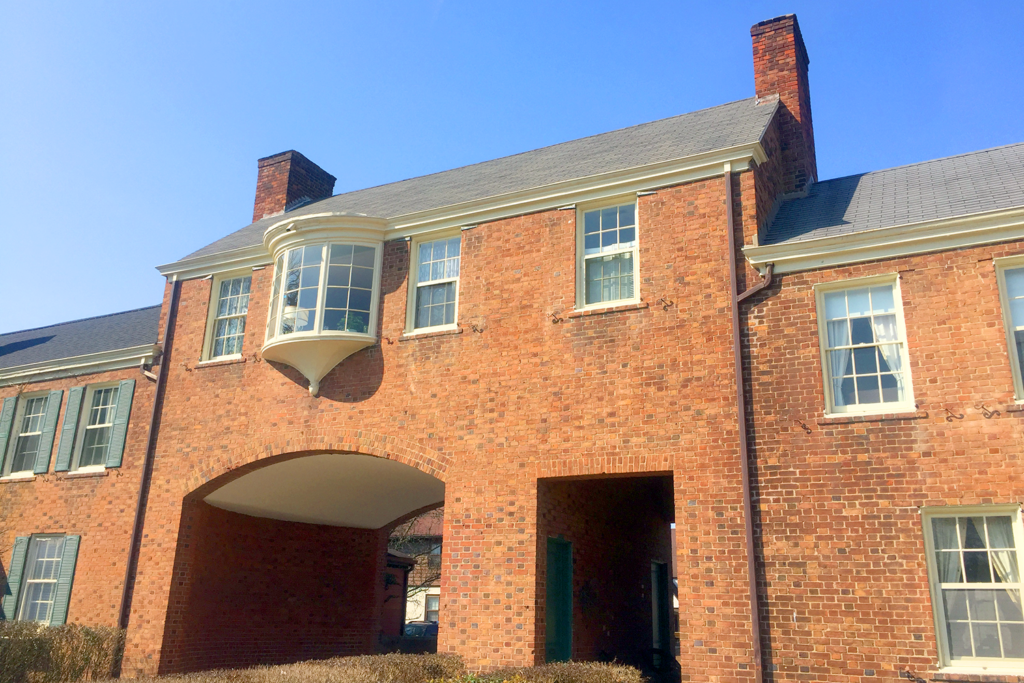 Mary Emery spent 15 years secretly acquiring land from 30 individual property owners, hiding her identity and plans to avoid price inflation. The Mariemont development cost her over $7 million. Her initial vision, planned by John Nolen, executed by Charles Livingood and with architectural design supplied by talented architects from all over the US, was intended as an antidote to the urban housing conditions of major American cities in the early 20th century.
The sales brochure prepared by The Mariemont Company in 1925 described Mariemont as the most comprehensive real estate development of its kind. There were plans for shops, a theater, hotel, banks, post office, library, museum, and a town hall within easy walking distance of every resident. The initial offerings were rental apartments, featuring pastoral life a short streetcar ride away from the city.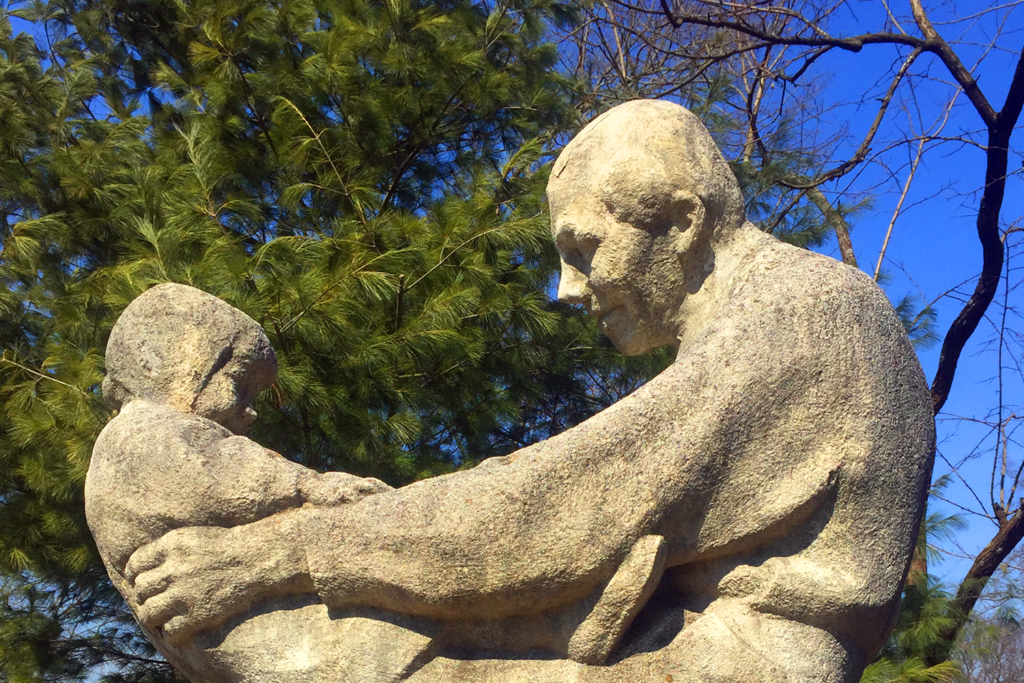 "Young people! Live in Mariemont, the new town, and know the joy of dreams come true. You need not wait for ships that may never come. Here within your reach NOW are cozy, convenient, practical, artistic, modern homes. Here, for yourself and your children, are ALL the advantages needed for clean, wholesome livelihood." So read an early advertisement.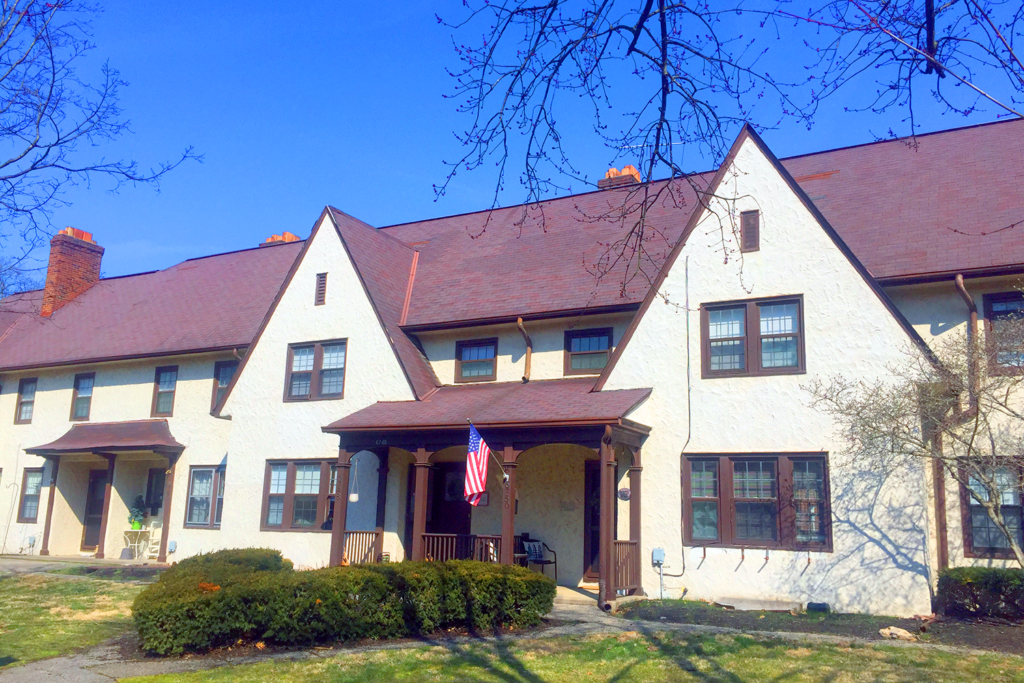 Homeownership in Mariemont came with deed restrictions that prohibited livestock and regulated elements such as fences, setbacks and signs. One restriction focused on occupants. "No lot shall be sold, conveyed, rented, leased or mortgaged to or occupied, except as a house servant, by a person of African or Asiatic descent." Unfortunately, race-based deed restrictions were common in Cincinnati and elsewhere during the 1920s. Even today, Mariemont is approximately 95% white.
We begin our stroll in the literal middle of Mariemont. The town center is a square laid out with six roads leading into and around it with a small park and fountain at its midpoint. The bronze, three-tiered fountain and water basin are visually compatible but not historic.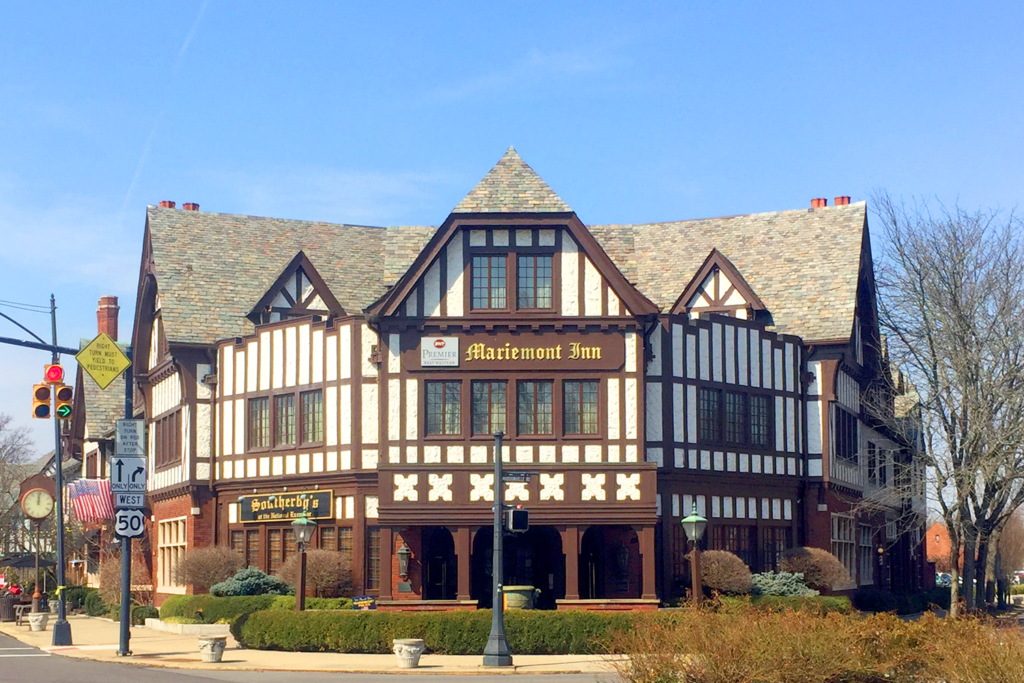 Designed by Zettel & Rapp, the three-story, half-timbered and brick Mariemont Inn and block of shops are among the largest buildings constructed by the Mariemont Company. The company used the central core of the buildings as its offices before the Inn opened for business in 1929. Only one half of Zettel & Rapp's design for this site was completed. The two wings, on Wooster Pike and Madisonville Rd., were to extend about twice as far as they do today.
MIT-educated Walter L. Rapp worked with Austrian-born artist and architect John Zettel on the design of these buildings; their partnership was active 1913-1930. Rapp is perhaps best known for Krohn Conservatory in Eden Park. Zettel was responsible for the design of beloved Kilgour Fountain in Hyde Park Square.
Construction of the Theatre Block began in July 1938, and the Mariemont Theatre's 725-seat space screened its first film on Christmas Day that year. It is flanked on either side by businesses. Mariemont's master plan included an assignment for a future theater, and this one was built by third-party owners in keeping with that plan.
New York architect George B. deGersdorff designed the Recreation Center for the village in the Italian Romanesque Revival style, housing a large auditorium, several lounges, kitchen, four bowling alleys, and a rifle range, with a tall clock tower dominating both the building and this section of Mariemont. In 1954, the Recreation Center was sold to the Mariemont Community Church for its activities and has now been renamed the Parish Center.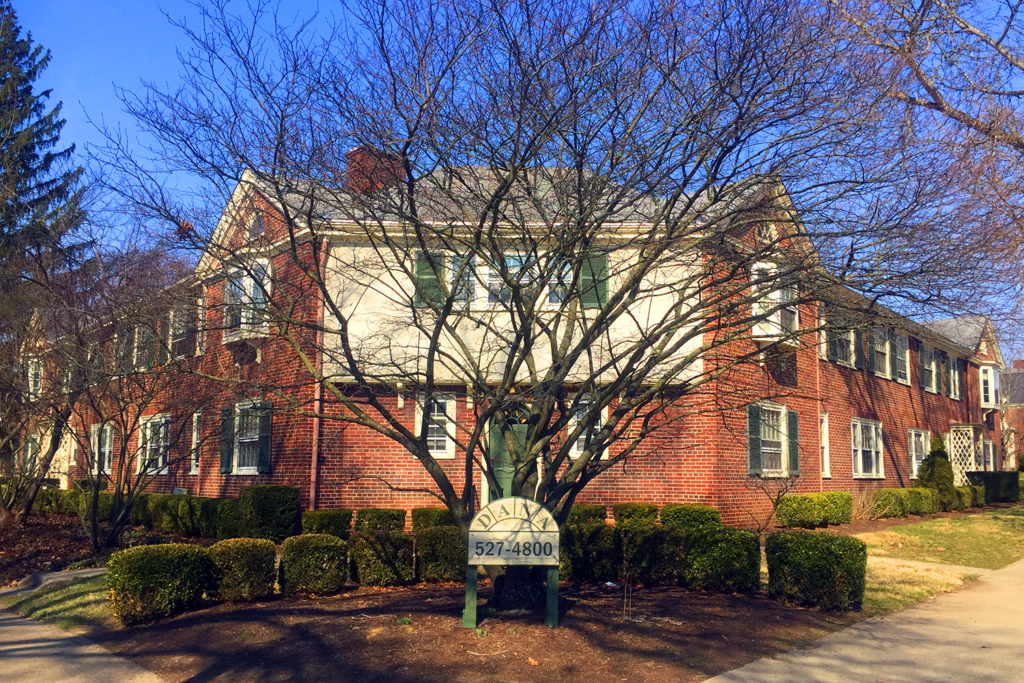 The Dana Group contains townhouses and apartments designed in the Georgian Revival style by Richard H. Dana, Jr. After architectural studies at Harvard, Columbia and the Ecole des Beaux Arts, Dana joined the drafting staff at Delano & Aldrich before joining forces with Henry K. Murphy and later striking out on his own. He was a recognized authority on Colonial architecture.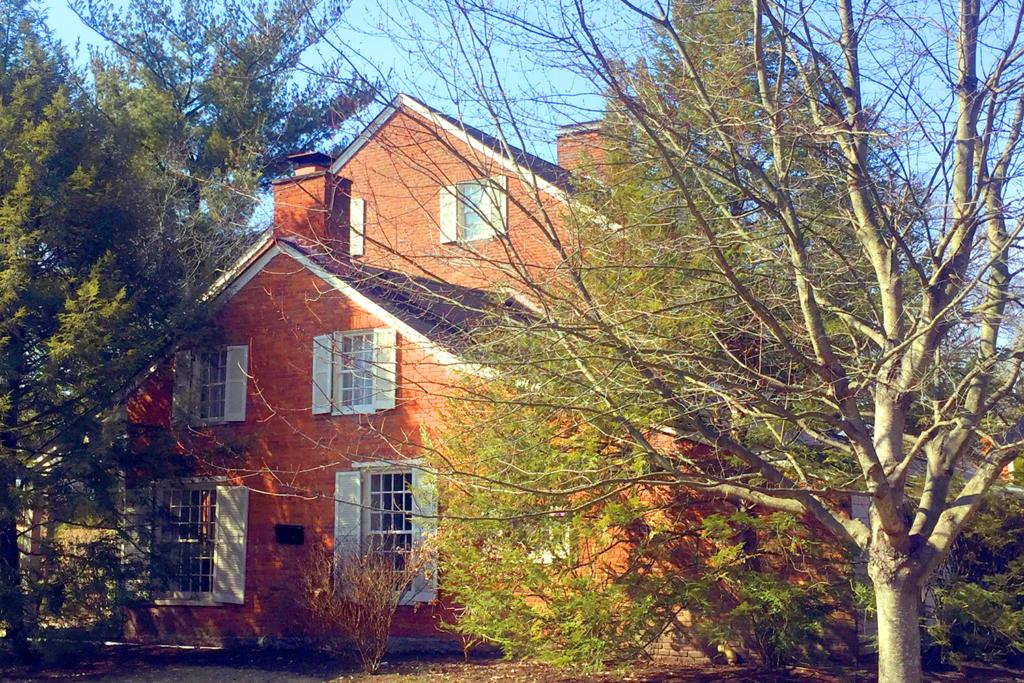 The original portion of this brick house, a single room with a sleeping loft, was built in 1802 by the pioneer Ferris family, making it two years older than the Betts House in Cincinnati's Betts-Longworth Historic District. The Ferris House was expanded circa 1812-13. It stands adjacent to the site of the groundbreaking for Mariemont, when Mary M. Emery and a number of Mariemont Company officials and guests sunk a silver spade into the ground, on 23 Apr 1923. This building was intended by the Mariemont Company to be used as a museum of local history, and the spade is now on display in the Village's municipal building.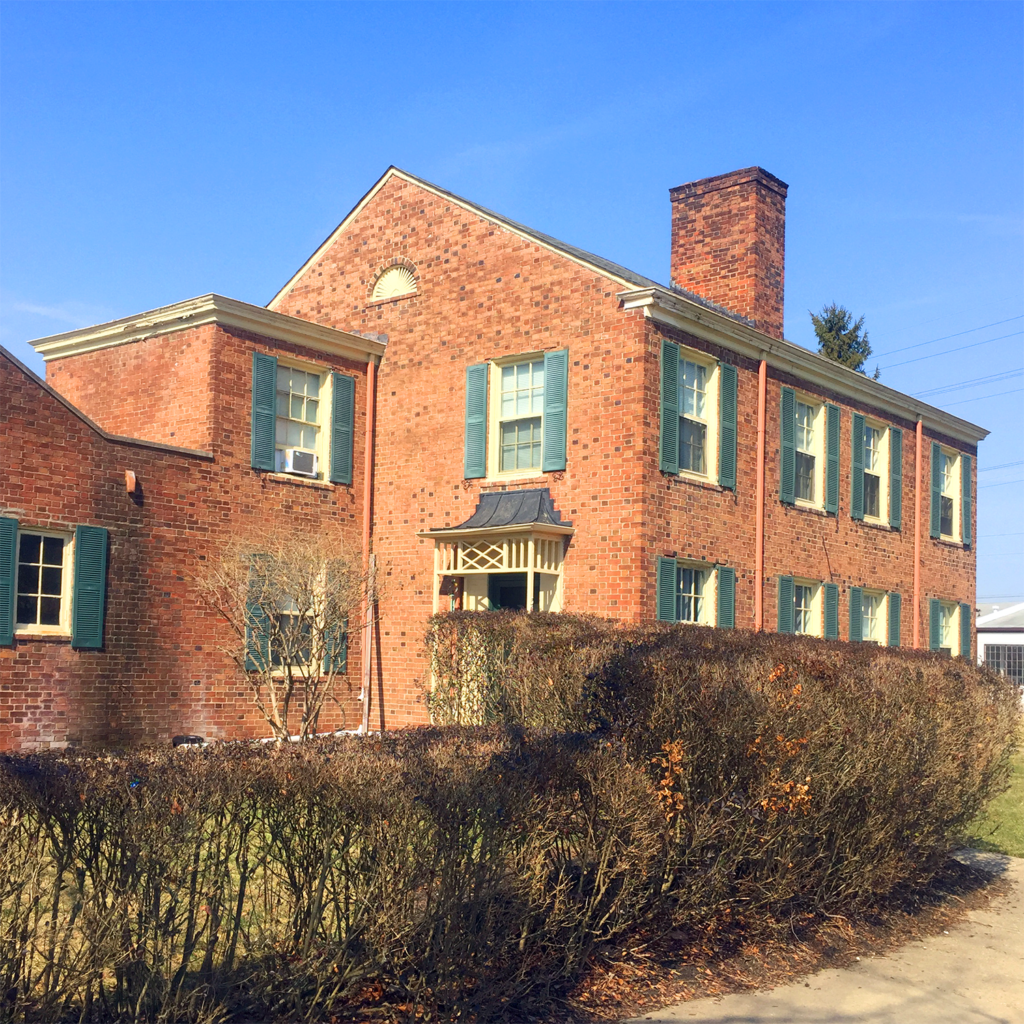 In contrast to the quaint English country look apparent in much of Mariemont, a very sophisticated Georgian Revival style of red brick set in Flemish bond with light cream wood trim, windows, and doorways characterizes these 1924 two- and three-story residences designed Edmund B. Gilchrist. The architect was considered an expert in "group housing" and designed a naval base and WPA public housing, in addition to more conventional residential commissions.
This ensemble of 47 "cottages" was constructed in 1924 and covers both sides of Maple St. Gable roofs with brown shingles, light tan/cream stucco, and small entry porches characterize the homes designed in English Cottage Style, drawing also from the American Bungalow/Craftsman style. Soon after this commission, MIT alumni Edward Kruckemeyer and Charles Strong would go on to design the now-iconic administration building at Lunken Airport, among other local projects.
The original fire/police station was designed by Charles F. Cellarius. It has the appearance of a fairytale cottage in Tudor Revival style of brick and half-timber construction with a slate roof and small dormer window protruding above the porch. A projecting central core with a gable roof originally garaged the fire truck behind double wooden doors. The building, now housing offices, has had only minor modifications.
A graduate of Yale and MIT, Cellarius practiced in Cincinnati after serving in World War I and is best known for his subtle and convincing adaptations of Colonial Revival styles. He designed many educational buildings for Berea College, Ohio University, Miami University, Ohio State University, Wooster College, and the University of Cincinnati, as well as several local high schools, including Fairfax and Bond Hill.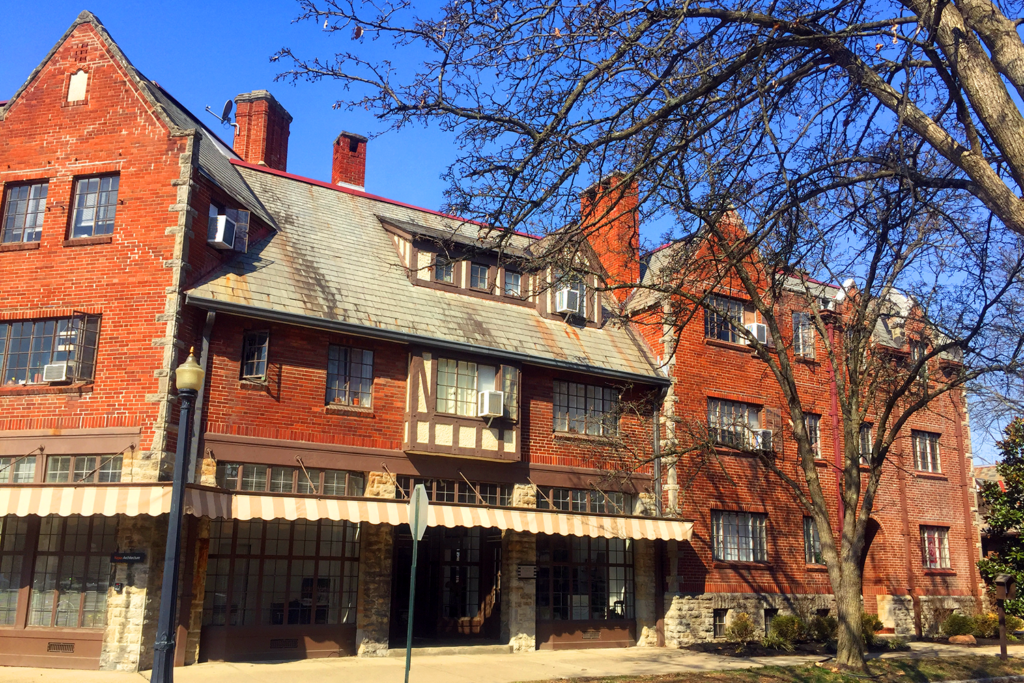 Designed by Boston-based Ripley & LeBoutillier, Dale Park Center (or Old Town Center) was intended as the commercial center for Dale Park residents, on a smaller scale than the Town Center a few blocks away. This area is centered on retail and offices integrated into the ground floor of rental apartment buildings, built for "wage-earners" or "employed professionals or artisans." At three stories, these are some of the tallest residential buildings in Mariemont.
Hubert G. Ripley, a talented artist and architectural draftsman who graduated from MIT, was initially retained by Charles Livingood to produce a set of conceptual renderings for Mariemont, which illustrated buildings that were never built but were widely published even before the final architecture firm selections were made. Addison B. LeBoutillier had joined Ripley's firm in 1919. He was a minor, but notable, figure in the Arts and Crafts movement and, in addition to residential architecture, was known for his work as an etcher, wood carver, medallist, and ceramic designer.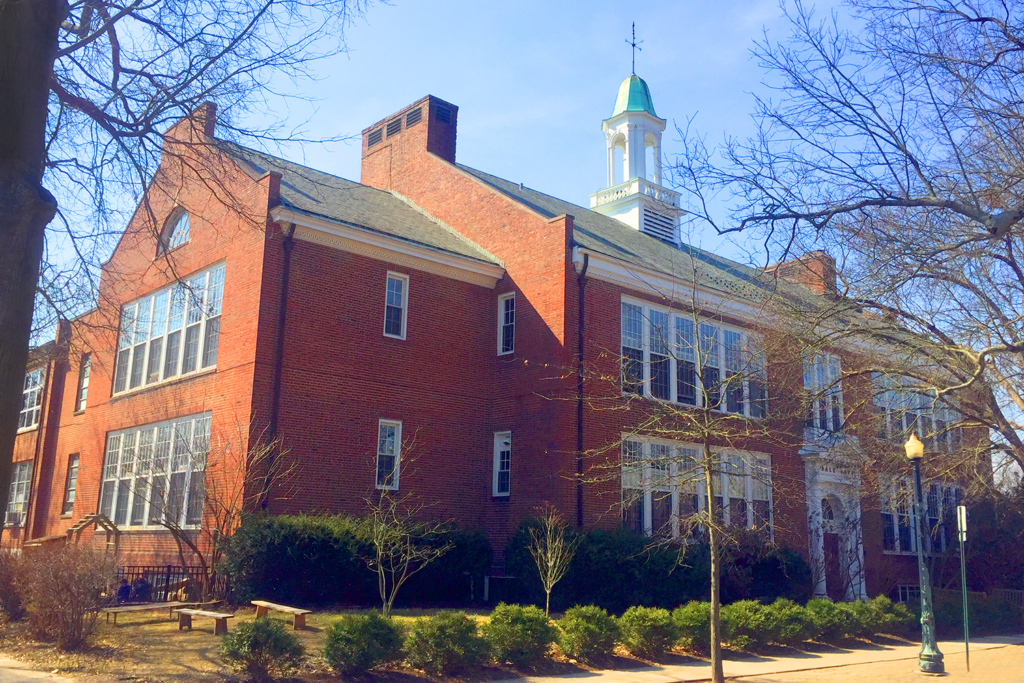 Dale Park School (now Cincinnati Waldorf School) was designed by A. Lincoln Fechheimer and Benjamin L. Ihorst, the architectural duo also responsible for the Theodore Roosevelt School in South Fairmount, Ault Park Pavilion, Linwood School, and the Isaac M. Wise Center (now Zion First Pentecostal church). The original 1925 building has been expanded considerably over the years, most recently in 1966. Its graceful brick and white trim construction is rich in Georgian-style details such as the cupola capping the roof line, the pedimented main entrance, its balanced, symmetrical layout, and the half-circle window at the east end.
Ihorst trained at the Ohio Mechanics Institute and worked as a draftsman for several local architects including Fechheimer, officially becoming his partner in 1926. Born deaf into a prominent local Jewish family, Fechheimer was educated at Columbia University and the Ecole Des Beaux Arts in Paris before returning to Cincinnati to practice.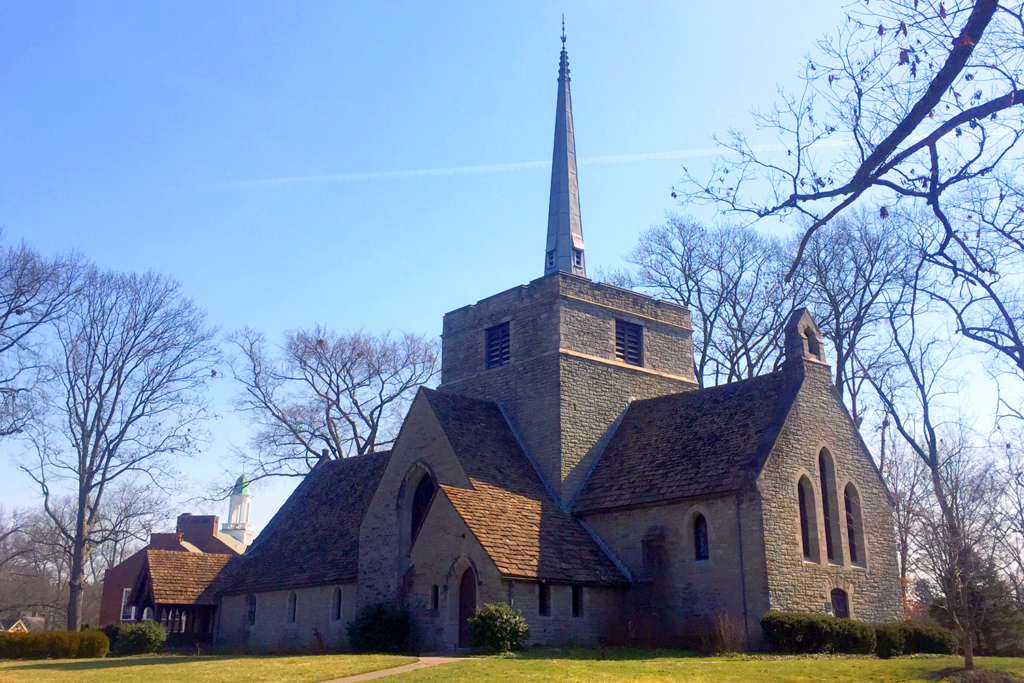 Designed by Canadian-born, Ecole des Beaux Arts-educated Louis E. Jallade, Mariemont Community Church was the first building begun in Mariemont. The stone edifice resembles a Norman-style English parish church, and the handsome roof tiles were once part of a tithe barn that belonged to the Cistercian monks of Kingswood Abbey in England, dating from about 1300. South of the church, enclosed by a low stone wall, is the cemetery established by the region's pioneer families, with the oldest gravestone dating to 1822.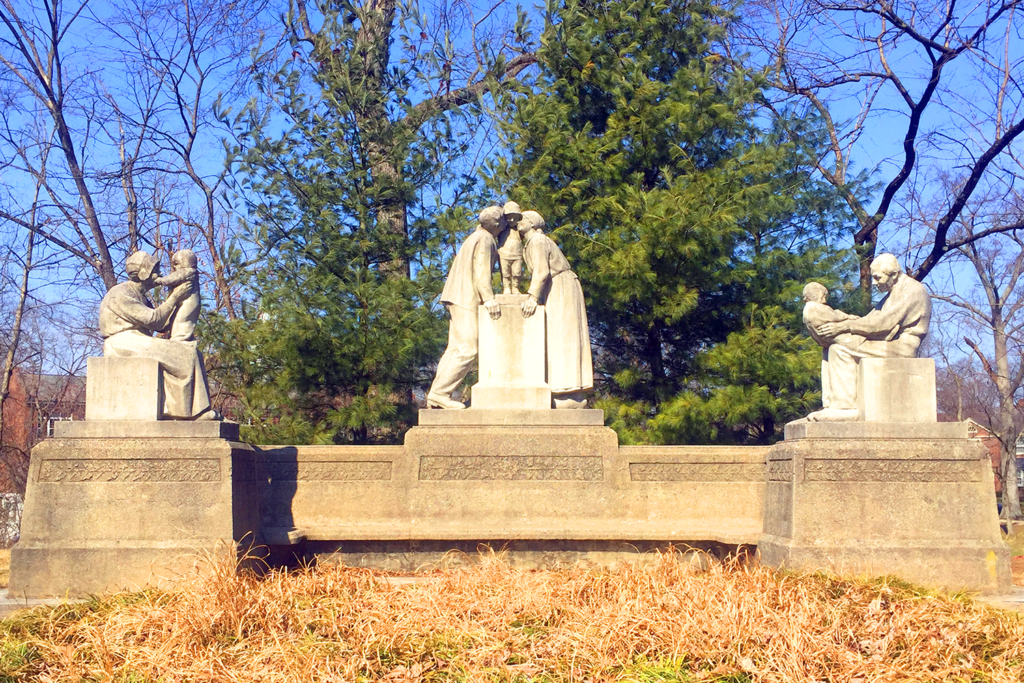 Carved in limestone and dedicated in 1929, this Dale Park sculpture by Lucien Charles Edouard Alliot depicts three groups of French peasants, positioned on a concrete U-shaped base with an integrated bench. Alliot was a French artist, well known for his figurative sculptures which were exhibited for many years at the Salon de la Société des Artistes Français. He also competed in the sculpture category of the art competition at the 1924 Summer Olympics in Paris.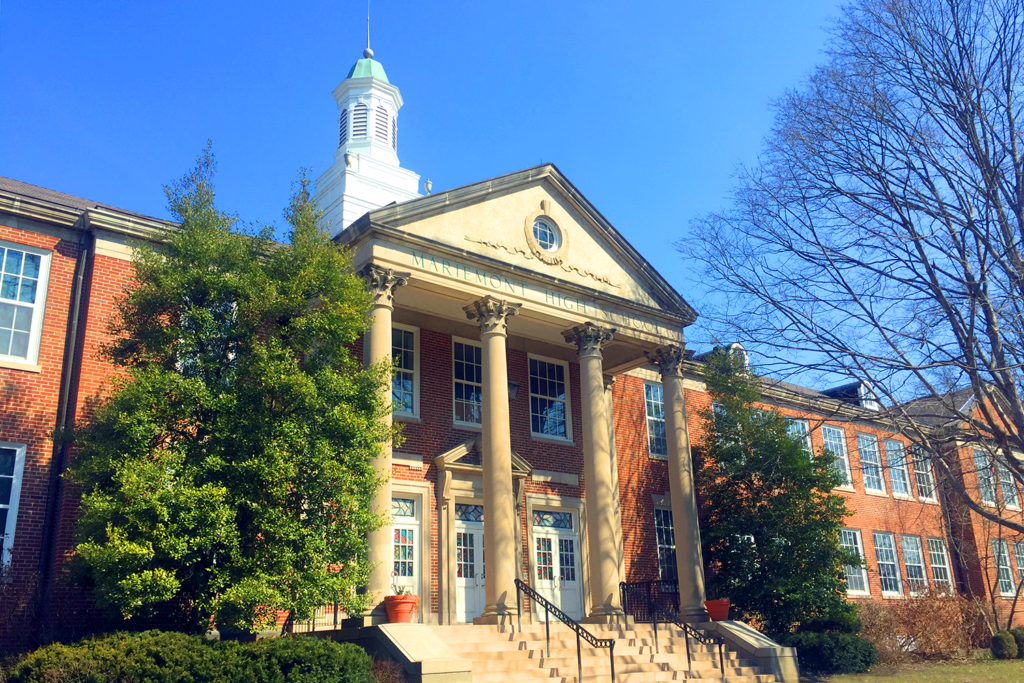 Mariemont High School (now part of Mariemont Elementary School) was designed by E. C. Landberg and completed in 1939. The red brick Georgian Revival building is an imposing two-story, symmetrical structure with a large wooden cupola. Edwin Carl Landberg was a prolific architect who practiced in Northern Kentucky for many years and designed several local public schools, including the Lincoln Grant School in Covington, considered to be a state-of-the-art facility for Black children when it opened in 1932.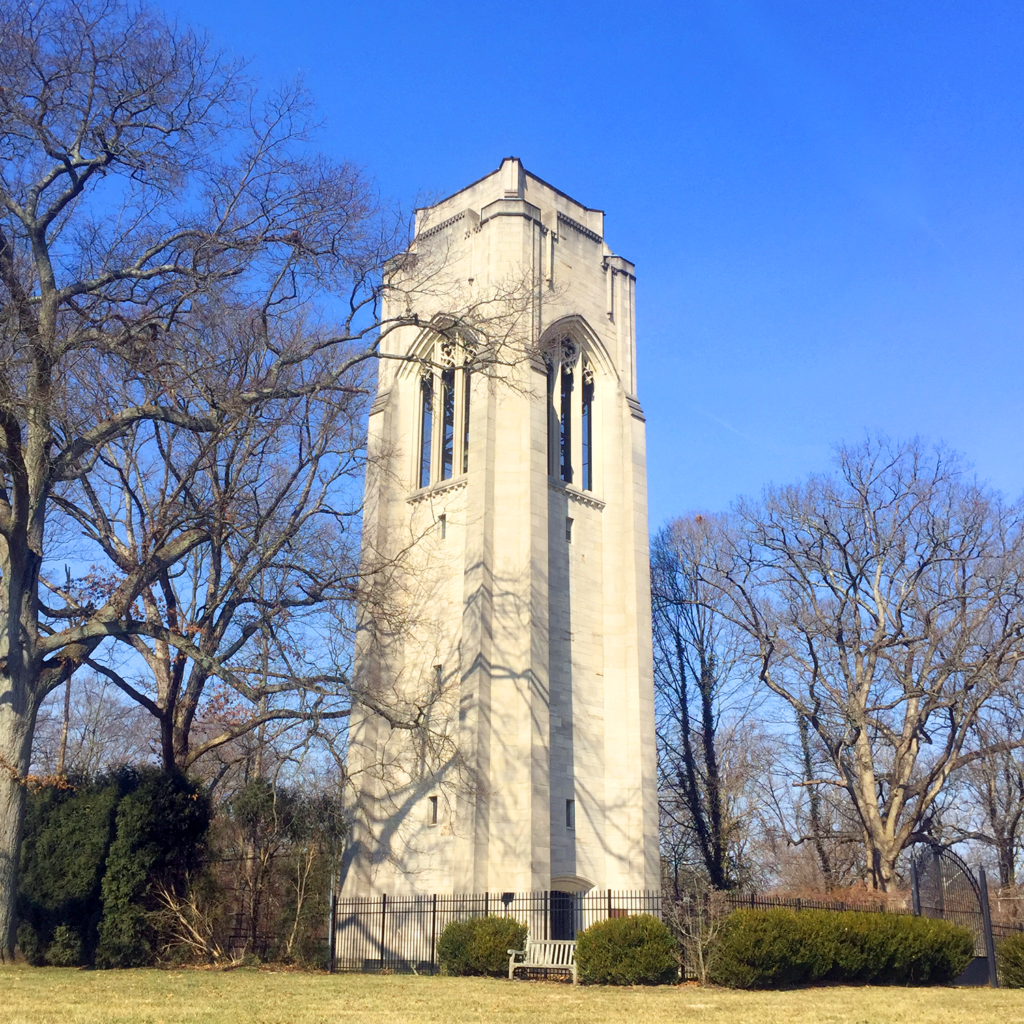 At approximately 17 acres, Dogwood Park is the largest public area in Mariemont, and the site of an impressive Norman Gothic Revival bell tower designed by Charles F. Cellarius. The Mary M. Emery Memorial Carillon, a gift from Mary's sister Isabella F. Hopkins, is 100 feet tall and houses a full range of 49 bells, each weighing between 19 and 4,800 lbs.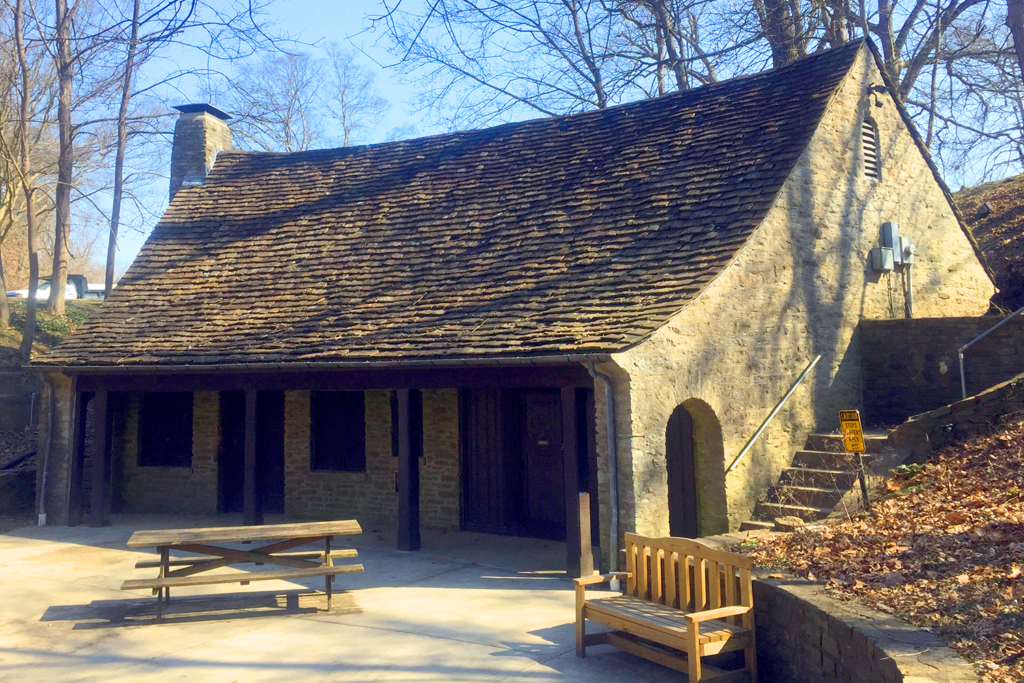 Designed by Charles F. Cellarius, this rustic stone building faced a 2-acre lagoon and served as a boat house until the lagoon was filled in during the 1940s due to silting problems. The stones for the original roof came from a creek bed in Batavia. When the boat house was restored in 2000, new stones were ordered from Gloucestershire, England.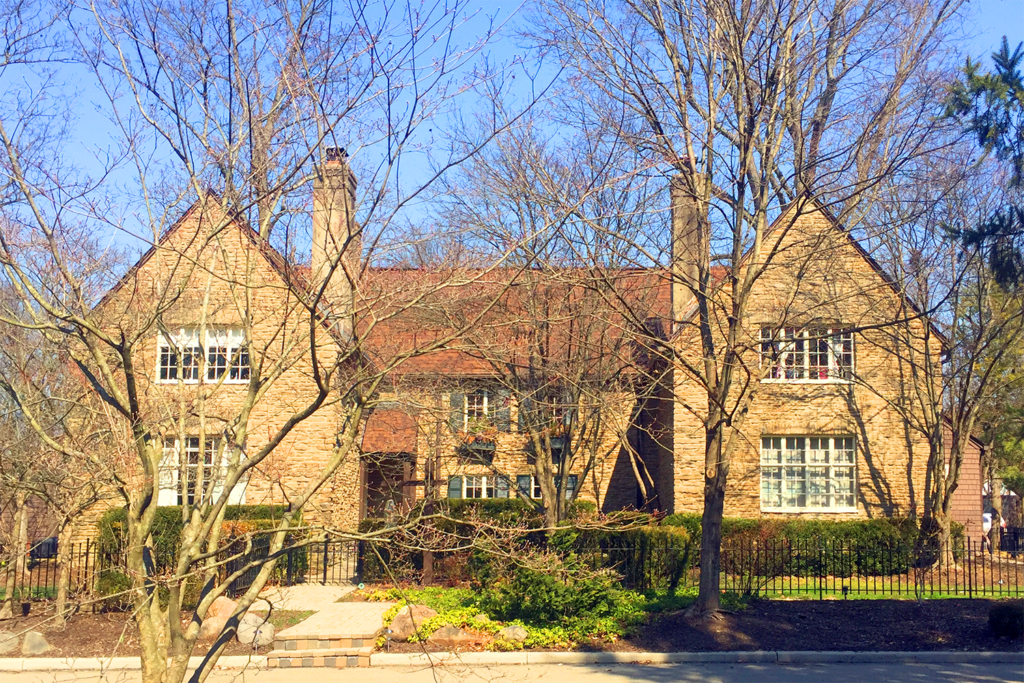 When John Nolen was planning Mariemont in 1924, he hired 26 architectural firms to design buildings in this new community. One of those was the Boston-based firm of MIT alumnae Lois Lilley Howe and Eleanor Manning, only the second female-led architectural firm in the US. Howe & Manning used local stone in the English-style cottages and two-family houses they designed for Denny Pl., which was economical and helped the houses blend into the landscape, an aspect Nolen emphasized in the master plan.
Early women architects were often limited to residential projects, a reality on which this firm capitalized with its slogan "the woman's touch in architecture." In 1931, Lois Lilley Howe became a Fellow of the American Institute of Architects, the first woman to be elected to this honor.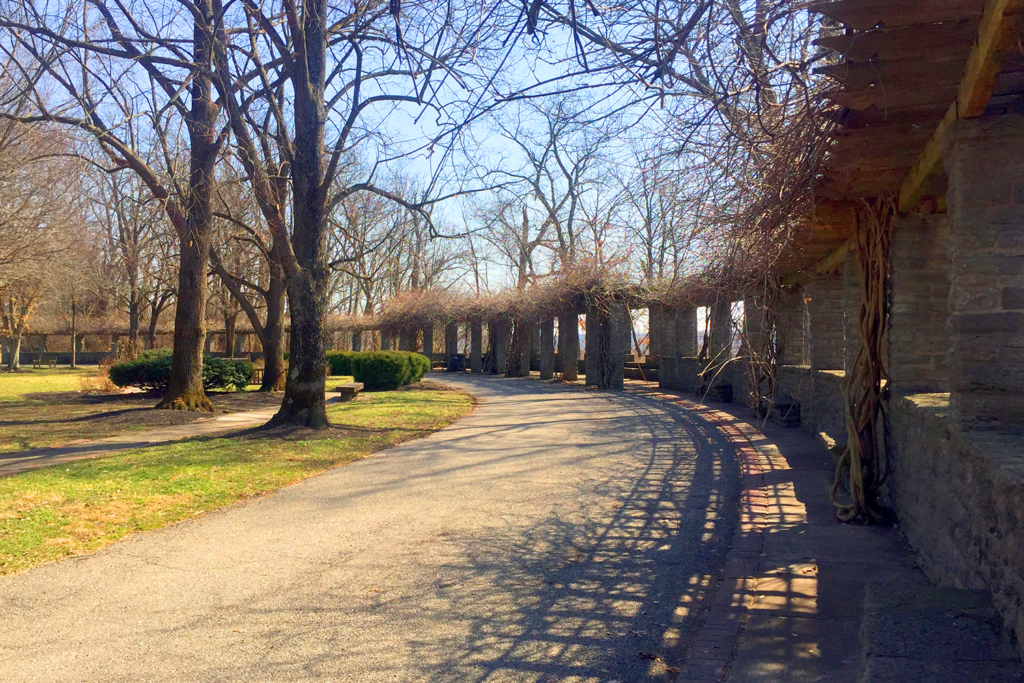 The wooden pergola, designed by Philip W. Foster, is a gracefully curved, 400-foot long half-circle. It supports mature wisteria vines above a gray stone concourse, overlooking the Little Miami River and the valley beyond.
Foster was hired by John Nolen as his principal associate in 1912 and served as his chief designer 1914-1920. He executed a "preliminary sketch" for the Concourse wall and pergola in the winter of 1923, according to Nolen, who wrote to Charles Livingood that the design was "of course subject to revision."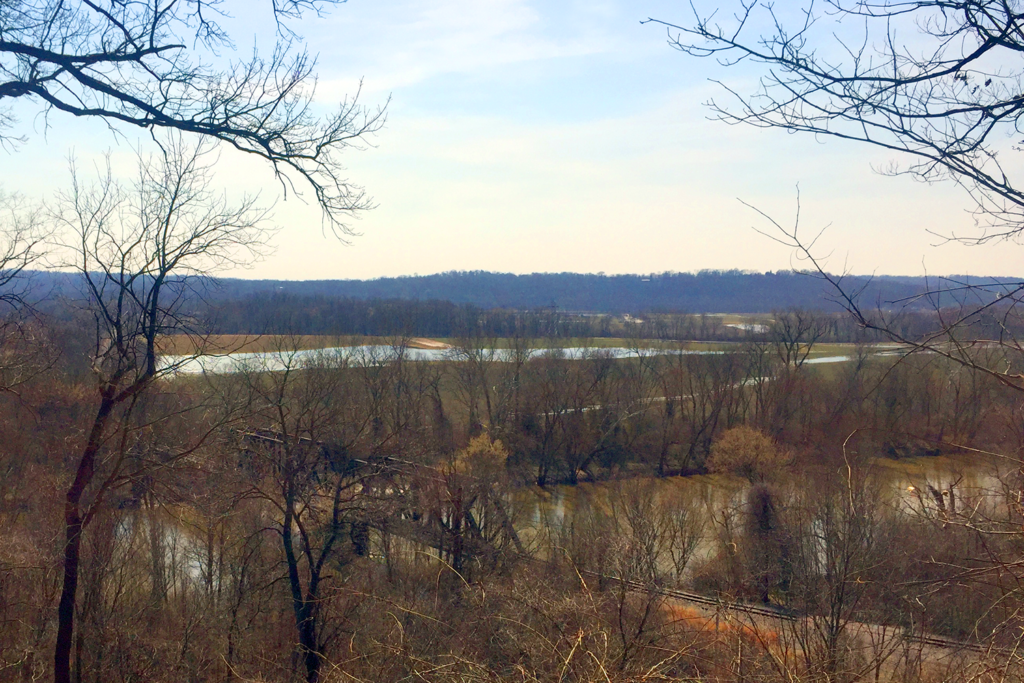 Nolen further wrote to Livingood that the Concourse would become "one of the show places in the United States, if I am a judge. I had no idea myself how beautiful the Little Miami Valley is in mid-summer. This Concourse will be unique–it will be the center of the greater gatherings and towards evening will be a delightful spot for the inhabitants to congregate, for it has this great advantage–the sun does not set in the eyes of the visitor."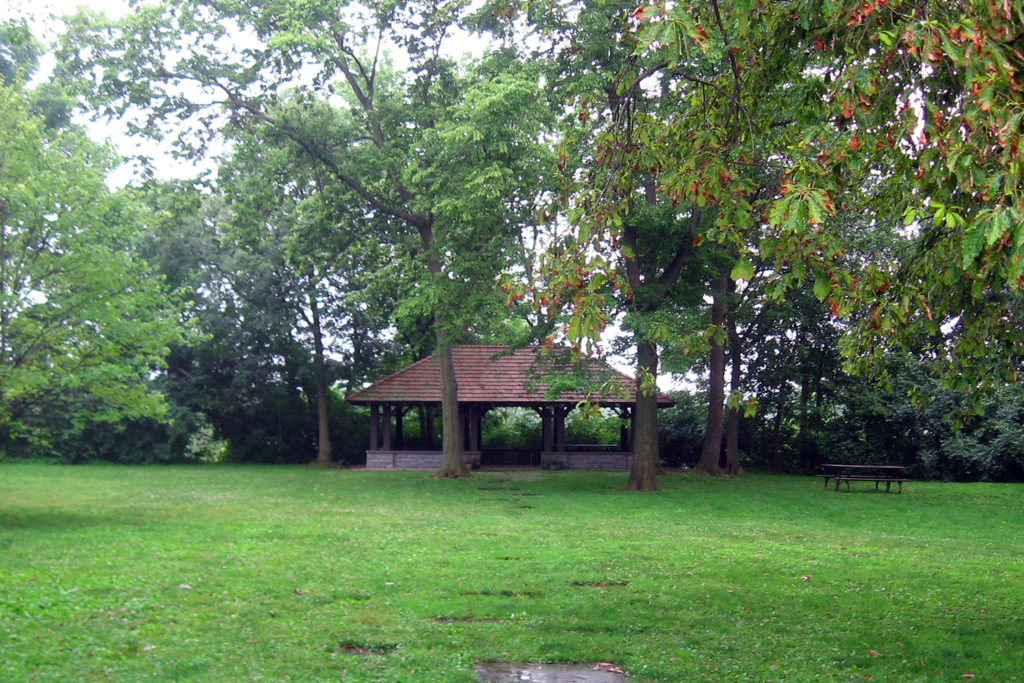 Our last stop is the site of a village that predates Mariemont by hundreds of years. The five-acre Madisonville Site is a prehistoric archeological site on a bluff above the Little Miami River.
The Madisonville Site was settled most intensively in the late 16th and early 17th centuries, and is the most excavated Fort Ancient site of this time period. Exploration was begun in 1878 by physician and amateur archeologist Dr. Charles L. Metz. Early 20th century excavations were carried out by staff of the Peabody Museum at Harvard, and more recent research has been conducted by the Museum of Natural History & Science.
This is believed to be the only Fort Ancient site whose people consumed bison to supplement their diet of maize. The village site was found to have had two or more small plazas. The large quantity of goods of non-local materials and design indicate that the villagers were connected to a large exchange network. Items have been identified as originating from the St. Lawrence River region, on the New York and Canadian border, as well as present-day Iowa, Alabama, and Tennessee. The size and limited range of European goods indicates that they came from an indirect network at this time, rather than in direct trading.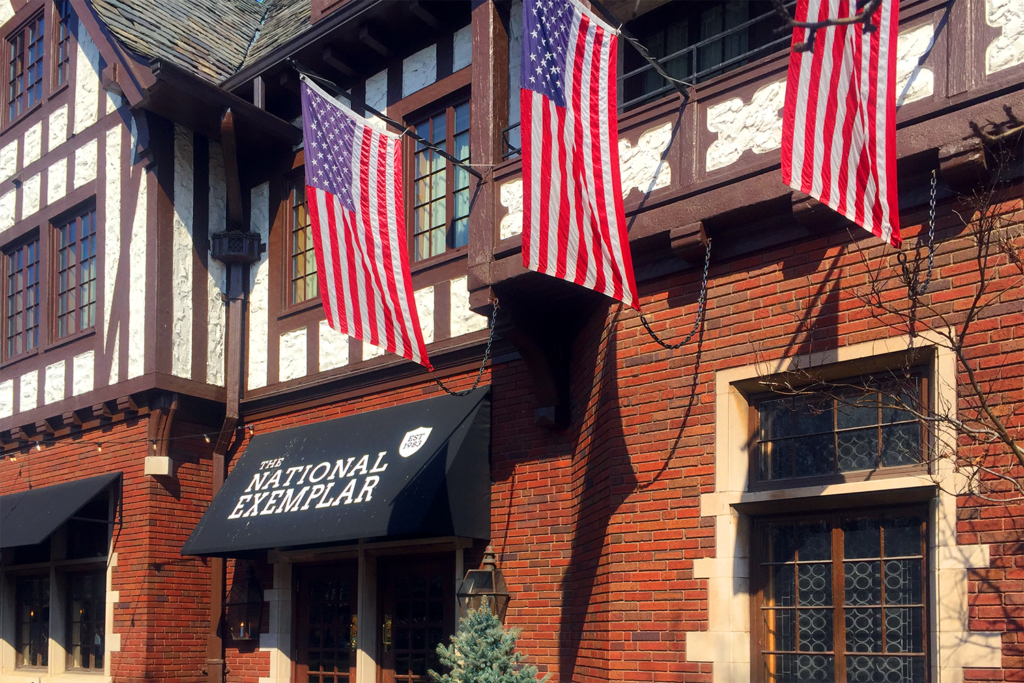 In the words of John Nolen, "The town plan of Mariemont had a reverence for the site on which the town was to be built, and reflected in all its physical aspects the physical factors of the topography and of the controlling elements of circulation in the surrounding territory." The trees, originally purchased as saplings from George Washington's estate at Mount Vernon, have matured, but much has stayed the same in the village, and Mariemont remains the "national exemplar" that Mary Emery had envisioned 100 years ago.
This stroll was loosely based on the Mariemont Preservation Foundation's much more comprehensive walking tour as well as the National Historic Landmark Nomination for the village, and only covers a portion of the notable architecture. The relatively compact community is best explored on foot. Take your time to appreciate the intimate details!