by Maya Drozdz
Abraham Lincoln Fechheimer was born in Cincinnati in 1876 into a prominent local Jewish family. His father Leopold Samuel, a German immigrant, was a successful wholesale clothier who had married Mary Hollstein of Lafayette, IN in 1868. Abraham, who preferred to go by Lincoln, was the third of four children.
Lincoln's great uncle Marcus, a successful entrepreneur, had a home built for his family at 22 Garfield Pl., overlooking downtown's Piatt Park, the oldest park in the city. Designed in 1862 by Samuel Hannaford and Edwin Anderson in the Italian Renaissance Revival style, the Marcus Fechheimer mansion, now part of brand consultancy LPK, is the earliest remaining work by Hannaford.
Deaf since birth, the young Fechheimer greatly benefitted from his family's support, at a time when educational and professional attainment for deaf and hard of hearing people was not at all guaranteed. In 1921, he explained in the publication American Hebrew, "At the age of five, I had a private teacher, who gave me instruction in speech and lip reading at my home."
Four years later, Lincoln entered the Clarke School in Northampton, MA, a leading school for deaf education, where he studied for six years. He later credited his Clarke teachers with his success, stating, "It was through the results of their work that I was able to associate with the hearing world and thus overcome what, to my mind, is the deaf person's greatest handicap, namely, his inability to associate freely with hearing people."
Fechheimer returned to Cincinnati and became the first deaf person to enter a local hearing school, and then enrolled in the architecture program at Columbia University, becoming the first deaf student to receive a degree from a hearing college when he graduated in 1899. (Gallaudet University in Washington DC, a school specifically designed to accommodate deaf and hard of hearing students, had been founded in 1864.)
This was nearly 100 years before the Americans with Disabilities Act of 1990, so the responsibility for access and self-advocacy fell on the individual. No school or employer was required to provide any assistance at all. Fechheimer was pre-lingually deaf (deaf since birth) and, in his statements about his education, described the "oral" method with heavy emphasis on Deaf people's ability to speak and assimilate in society. This emphasis on oralism nearly eradicated sign language, and the long-term negative consequences of the practice were not fully realized or even acknowledged at the time.
A. Lincoln Fechheimer worked in a Chicago architectural office for a year after graduation, and was then admitted to the highly competitive École des Beaux-Arts in Paris. After receiving his diploma and working in Chicago for a couple of years, he returned to Cincinnati, where he remained for the rest of his career. Beginning in 1906, he worked in association with Harry Hake Sr., and then with Benjamin L. Ihorst and P.L. McCoy, 1922-1942.
Harry Hake Sr. trained at the Ohio Mechanics' Institute and the Cincinnati Art Academy, and by working as chief draftsman for three of Cincinnati's finest architects in the last decade of the 19th century–William Martin Aiken, Lucien F. Plympton and George W. Rapp. He would go on to work with his son and then grandson, both also named Harry, and the large, successful firm (Hake & Son, Hake & Hake, Jr. and finally Hake & Partners) was active for approximately 80 years.
Established in 1875 as the historic birthplace of HUC-JIR (Hebrew Union College-Jewish Institute of Religion) by Rabbi Isaac Mayer Wise, the founder of American Reform Judaism, the Cincinnati campus of Hebrew Union College is a vital center for higher Jewish learning, scholarly research, and community engagement. In 1903, the creation of a new purpose-built seminary was a project of the Union of American Hebrew Congregations, which purchased 18 acres for the campus on Clifton Ave. across from Burnet Woods, and retained the services of Arnold W. Brunner, a prominent NYC-based architect tasked with overseeing the project.
In 1907, Fechheimer and Hake won the competition to design the original group of buildings at Hebrew Union College. The school moved onto the new campus in 1912, and buildings from Fechheimer and Hake's original plan continued to be erected into the 1920s. When the plans were published in The American Architect in 1913, only Fechheimer was credited with the design, suggesting that he was the principal architect.
Dr. Samuel D. Gruber, an architectural historian who specializes in Jewish sites and monuments, speculates that Brunner, an American-born Jew whose own distinguished career benefitted from the early mentorship he had received from the Jewish architect Henry Fernbach, perhaps chose the duo's competition entry to help advance A. Lincoln Fechheimer's architectural career.
In any case, the design of the first Jewish educational campus in the US was an extraordinarily high profile commission for the young firm. Imposingly perched atop a hill, the brick structures were designed in the then-popular Collegiate Gothic style. Despite subsequent additions and alterations, the architects' original design intent is still very much intact.
In 1915, Harry Hake Sr. designed the Hanselmann Lodge #208 immediately south of the Hebrew Union College campus. It was later purchased by the school and is now home to the Skirball Museum, one of the oldest repositories of Jewish cultural artifacts in the US, as well as the first formally established Jewish museum in this country. Hake was a Freemason, responsible for the design of several local Masonic temples.
In 1912, Fechheimer designed Hubbard Hall for the Clarke School, his childhood alma mater, plus an addition to the building in 1929. He continued his involvement by serving as a trustee from 1917 to 1947, and also designing Skinner and Coolidge Halls for the Northampton campus.
The Windsor School in Walnut Hills was constructed in 1888, with a 6,000 square foot addition in 1892 designed by H.E. Siter, the architect of the Cincinnati Public Schools at the time. In 1919, A. Lincoln Fechheimer designed the Second Renaissance Revival annex, consisting of more classrooms, an auditorium and a lunchroom. The former school is now Windsor Flats.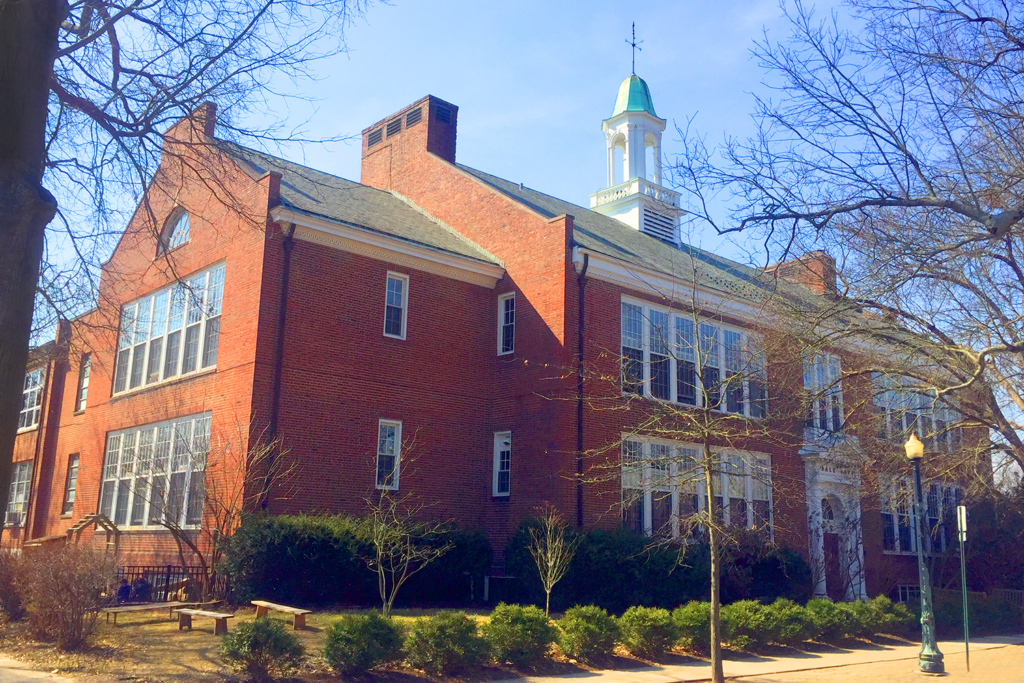 1923 saw the groundbreaking of the planned community of Mariemont 10 miles east of downtown Cincinnati. Planner and landscape architect John Nolen selected 26 architectural firms to design various parts of his overall plan. The Dale Park School (now Cincinnati Waldorf School) was designed by Fechheimer, Ihorst and McCoy, with Fechheimer serving as the principal architect.
The design blends seamlessly into its "English village" backdrop. The original 1925 building has been expanded considerably over the years, most recently in 1966. Its graceful brick and white trim construction is rich in Georgian-style details such as the cupola capping the roof line, the pedimented main entrance, its balanced, symmetrical layout, and the half-circle window at the east end.
The Theodore Roosevelt Elementary School opened in 1925 in the Cincinnati neighborhood of South Fairmount. The Jacobean Revival structure was designed by Fechheimer and Benjamin L. Ihorst, a young Ohio Mechanics Institute-trained architect who was employed as a draftsman in Fechheimer's office at the time. The two men became business partners in 1926. Upon opening, the school quickly became an integral part of the community. Unfortunately, after years of population decline, it closed its doors in 2014 and now sits empty, awaiting its next purpose.
The Issac M. Wise Jewish Center (now Zion Temple First Pentecostal Church) in North Avondale was constructed in 1929. The façade includes Star of David and menorah details, as well as a nearly illegible inscription, "open to me the gates of righteousness," from Psalms 118:19. The design was honored with an annual award from the Cincinnati chapter of the American Institute of Architects.
The Linwood Public School was designed in the Romanesque Revival architectural style by Fechheimer and Ilhorst and constructed in 1929. It closed in 2005 once the new East End School opened. This building was briefly used as a refugee shelter for those left homeless by Hurricane Katrina. 100 cots were set up, and temporary air conditioners and portable showers were installed. It is currently vacant.
The Italian Renaissance pavilion in Ault Park, designed by Fechheimer and Ihorst in 1930, has tall columns, grand stairs and a cascading water feature. This is a popular wedding and event venue, and the top of the pavilion affords great views of the surrounding area.
Cincinnati: A Guide to the Queen City and Its Neighbors, a 1943 WPA publication, describes the Jewish Hospital Nurses' Home as "a 7-story red-brick building with white stone trim, erected in 1930. Two 6-story wings project from the central section of the building. The structure is architecturally interesting as a combination of the modern functional and the old Georgian Colonial styles. It was designed by A.L. Fechheimer." Located at Harvey and Hickman Aves. and now partially obscured, it is part of the University of Cincinnati Medical Center.
According to a family history compiled by Richard Fechheimer, "Dr. Samuel Iglauer, [Lincoln's cousin], was one of the best known otolaryngologists in the country. When deaf children were referred to him for consultation, he would offer to send them to Abraham so that they could learn how successfully Abraham had coped with deafness. As a result, there were many deaf architects in the United States." (This same document also explains that "Abraham" chose to go by his middle name, Lincoln.)
Several of Fechheimer's buildings have been demolished. The Art Deco Wilson Auditorium, built in 1931 to house the University of Cincinnati's theatrical performances as well as lectures and speeches, was named in honor of donor Judge Obed J. Wilson and his wife Amanda Landrum Wilson. (The front facade featured impressive reliefs by sculptor Clement J. Barnhorn, whose work can be seen at the Cathedral Basilica of the Assumption in Covington, Memorial Hall and Rookwood Pottery's Fountain of the Water Nymph, now in the Cincinnati Wing at the Cincinnati Art Museum.) Empty since 2004, Wilson Auditorium was torn down in 2013. Other prominent losses include UC's Beecher Hall and the Schmidt Building in downtown Cincinnati.
In recognition of his professional accomplishments, A. Lincoln Fechheimer was awarded an American Institute of Architects fellowship in 1950, the AIA's highest membership honor, for his exceptional work and contributions to architecture and society. He passed away while vacationing in London in 1954 and is buried in Walnut Hills Jewish Cemetery along with members of his family, including father Leopold Samuel and mother Mary.
References: