text and photos by Heather Churchman
Evergreen Cemetery is the largest cemetery in Campbell County, and a really great place to get away from other people for a while. In addition to rolling hills and beautiful monuments, you can see Shaler Battery at the cemetery, one of 28 artillery batteries built in Northern Kentucky during the Civil War.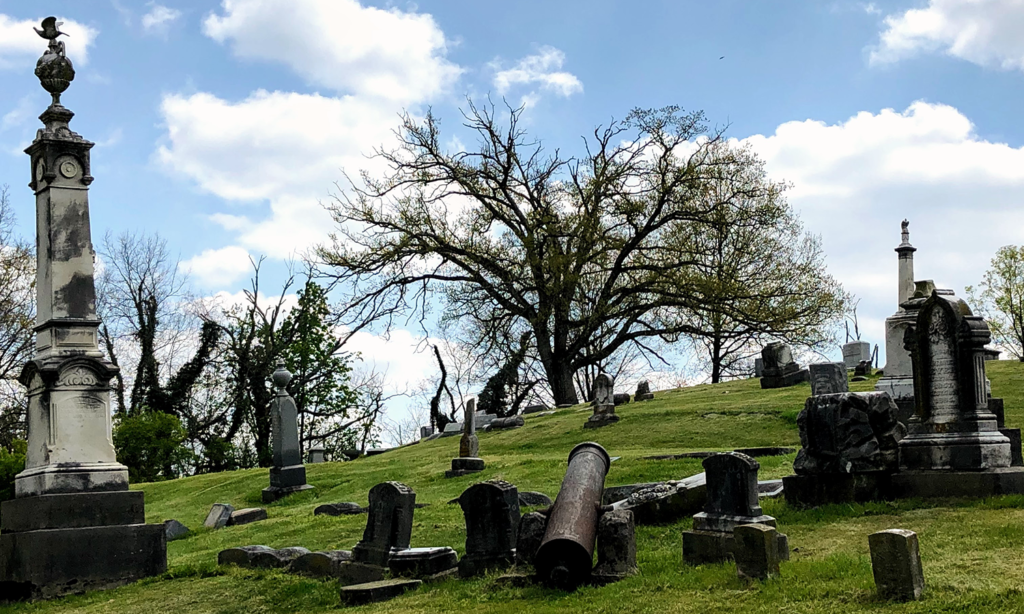 On the highest point in the cemetery, Shaler Battery was built to protect Cincinnati from Confederate soldiers. It's marked by a darling bandstand. Location, location, location—from that point on the hill, Union soldiers could spot anyone coming from the South (they would've been travelling via Dixie Highway or Licking Pike). There were some big cannons sitting on this hill back in the day!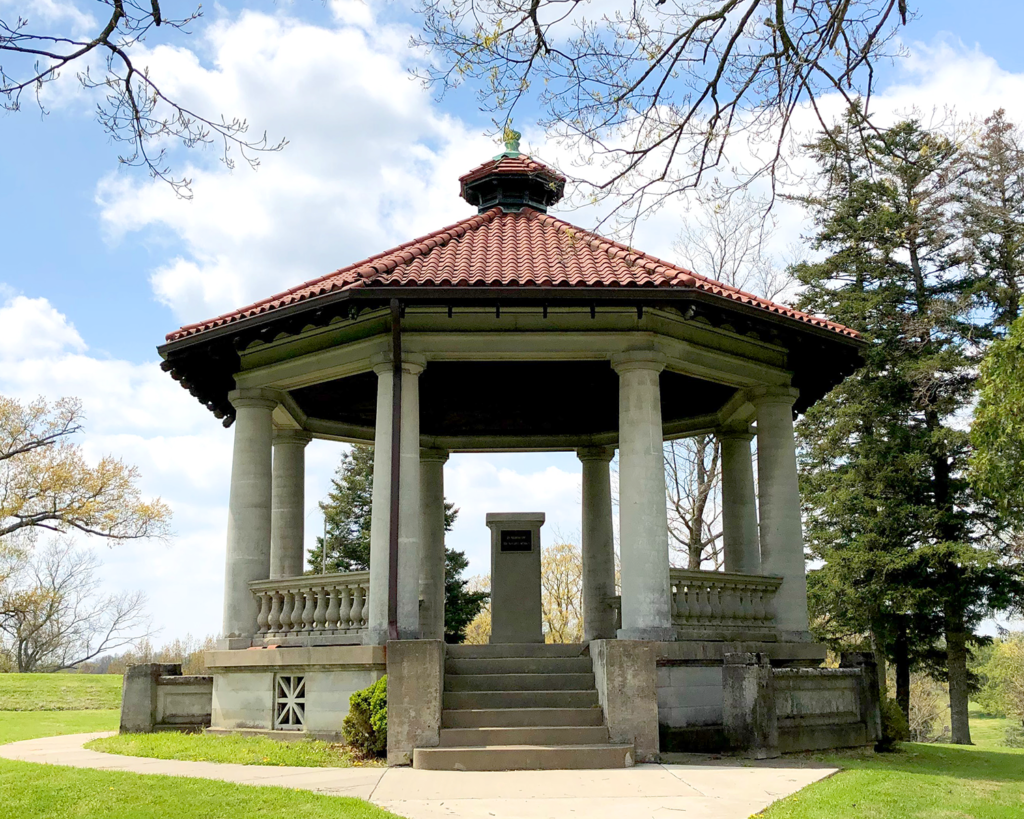 A Kentucky Journal newspaper account on 20 Jul 1894, noted the recent death of Emma Dennison Pagan, crediting her with having suggested the name "Evergreen" for the cemetery. Miss Pagan was the daughter of George Pagan, a long-time cemetery president.
Evergreen and other local cemeteries keep meticulous records. We know that John M. Howe, who died on 14 Jul 1849, was the first burial at the "new" Evergreen Cemetery. The other early plots had been moved from an older cemetery in Newport.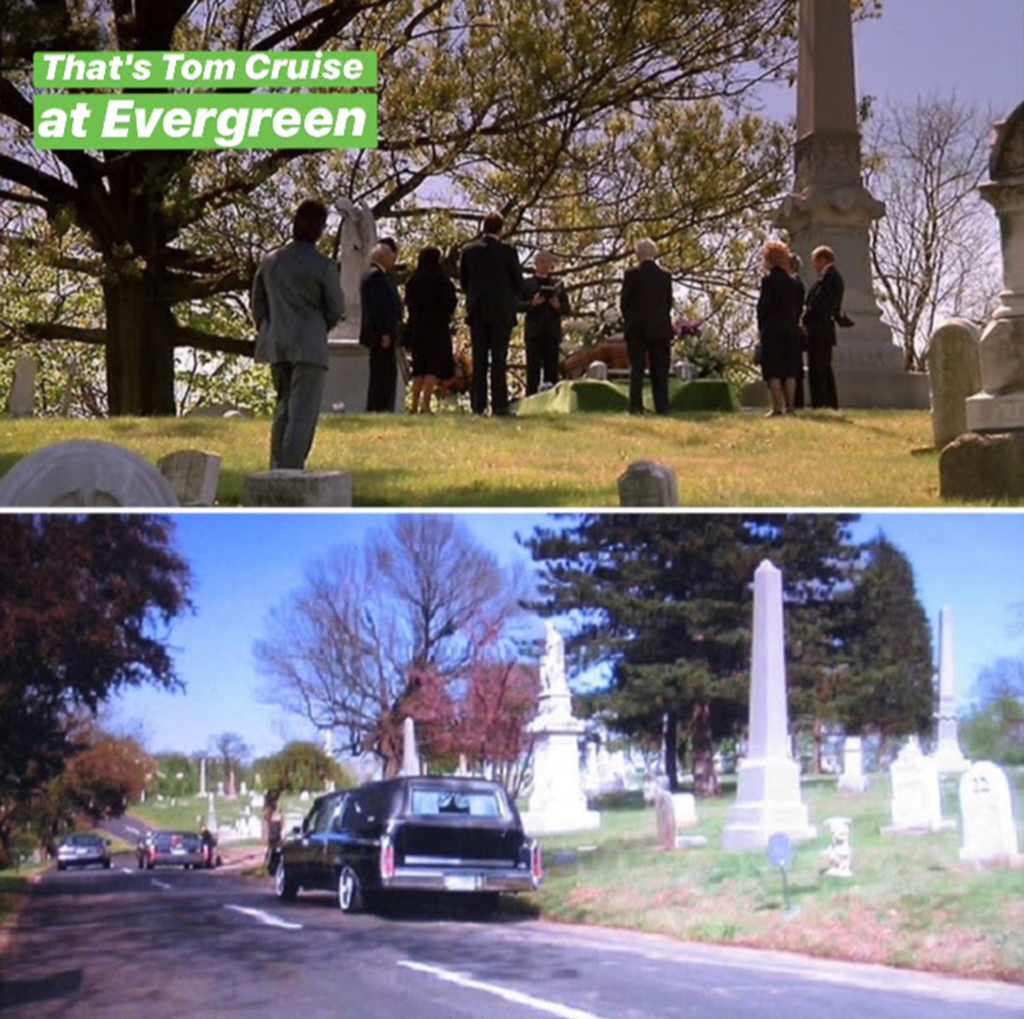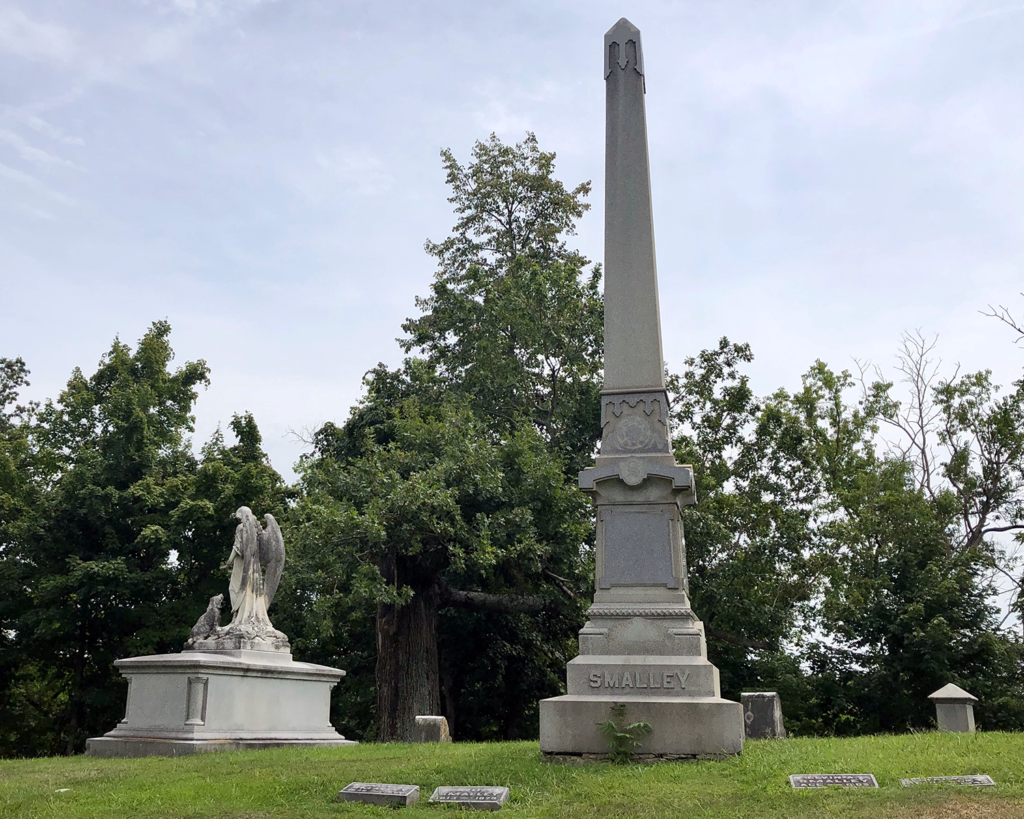 Evergreen even has a Hollywood claim to fame: It appeared in the 1988 Oscar-winning movie Rain Main. The Smalley monument in the background of the scene is real; some of the others were made of styrofoam.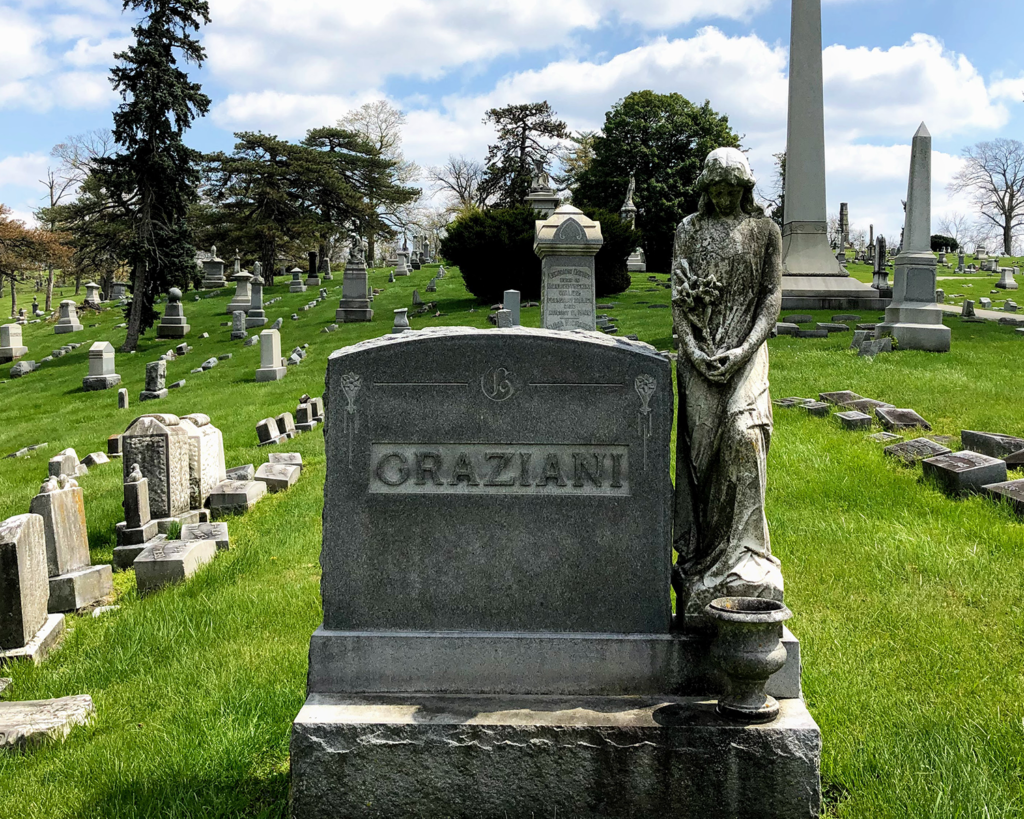 Scott Froendhoff, local historian, said in a 2016 Enquirer article: "With all the development and buildings being torn down, this is only left – the history; the people who made history are in the cemeteries."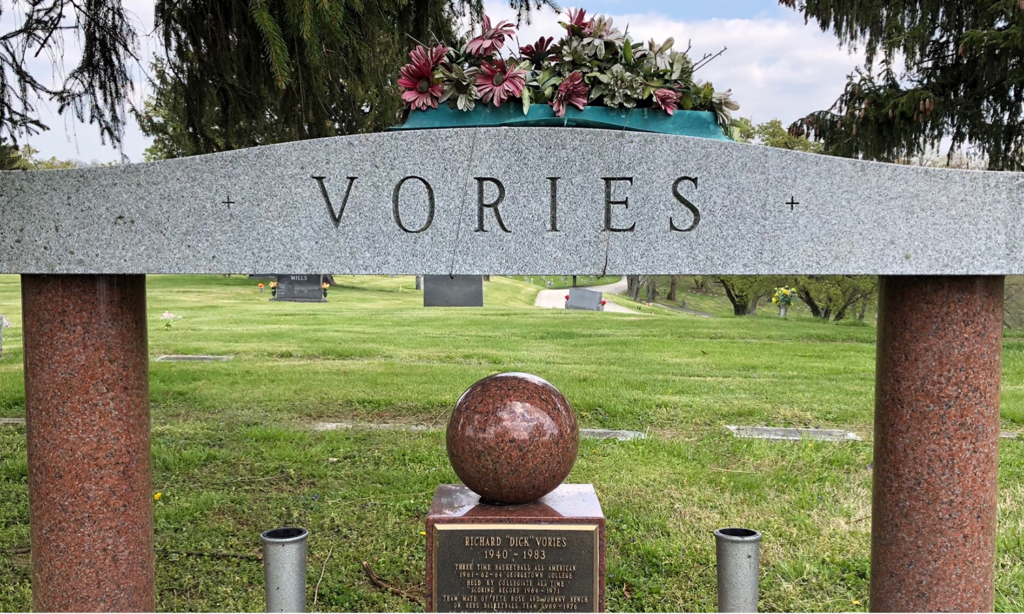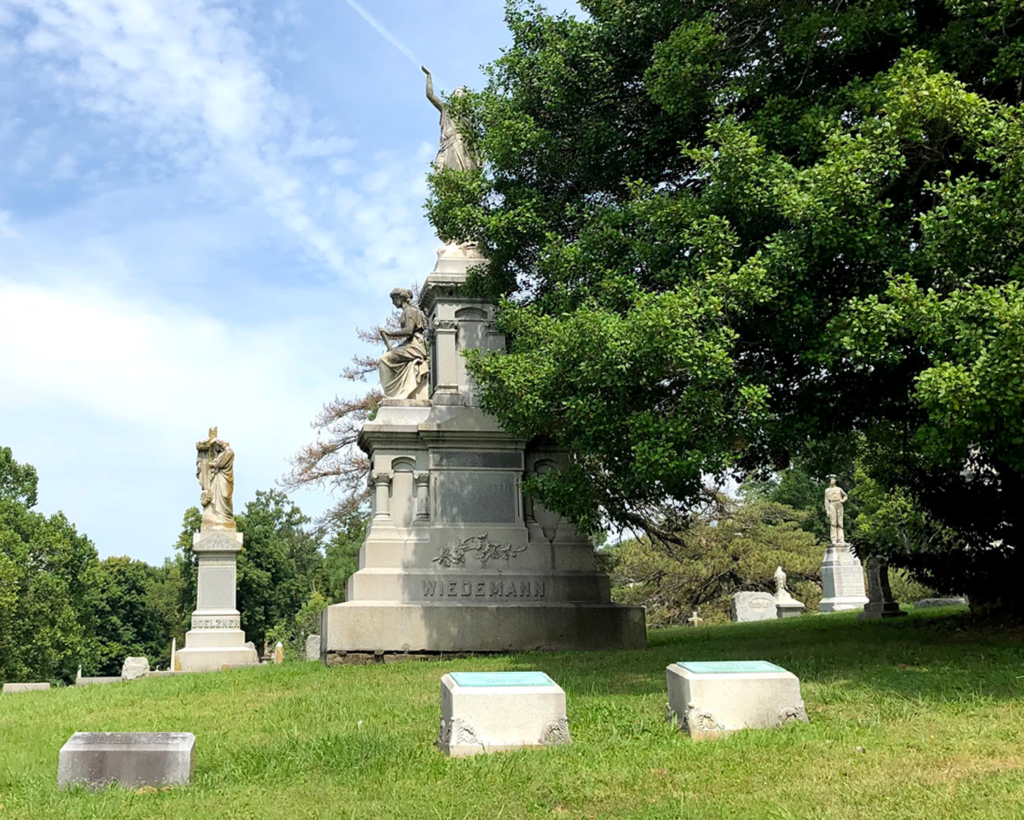 All the great names of Covington and Northern Kentucky (and some from Cincinnati) live on through their monuments at local cemeteries, including Evergreen. It's worth a trip to walk among them.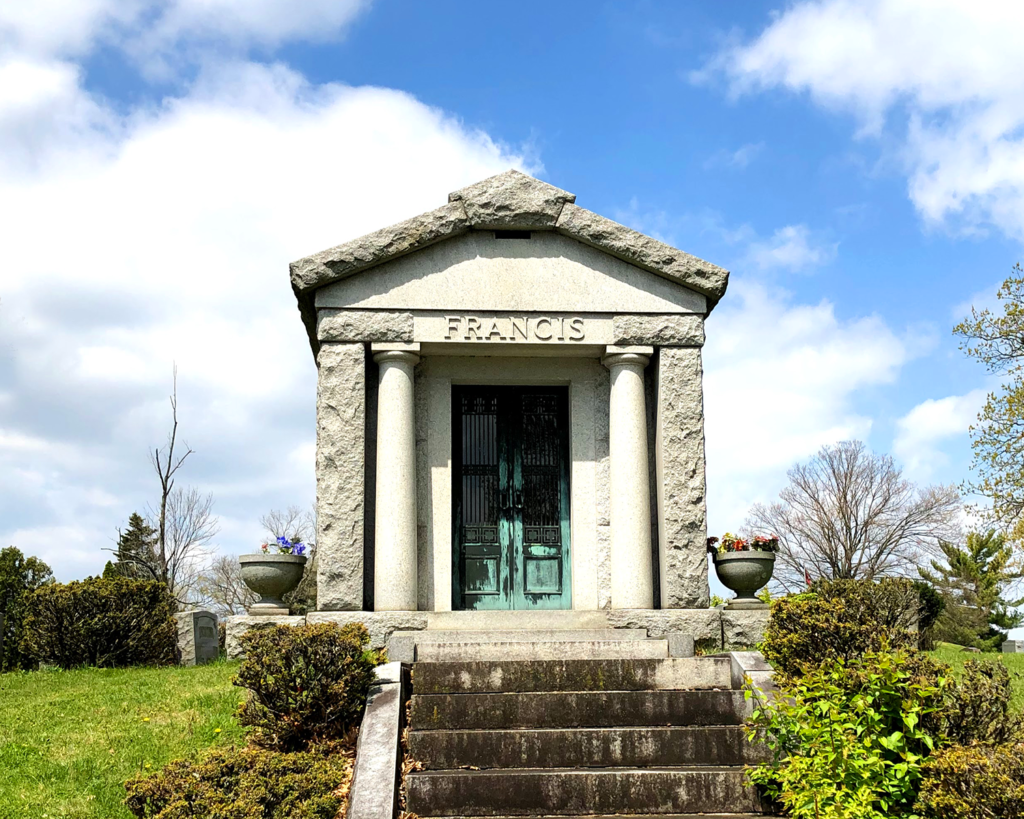 The cemetery is the final resting place of David Leitch, who developed the first settlement in Campbell County, along the Licking River at today's Wilder; his body was moved here in 1853. James Taylor and his wife Keturah (Leitch's first wife), founders of Newport, are also buried here. They were influential in business and cultural activities in early Northern Kentucky and once owned much of Campbell County. George and Charles Wiedemann can be found in the cemetery. George founded the brewery in Newport named in his honor; it was later managed by his son, Charles.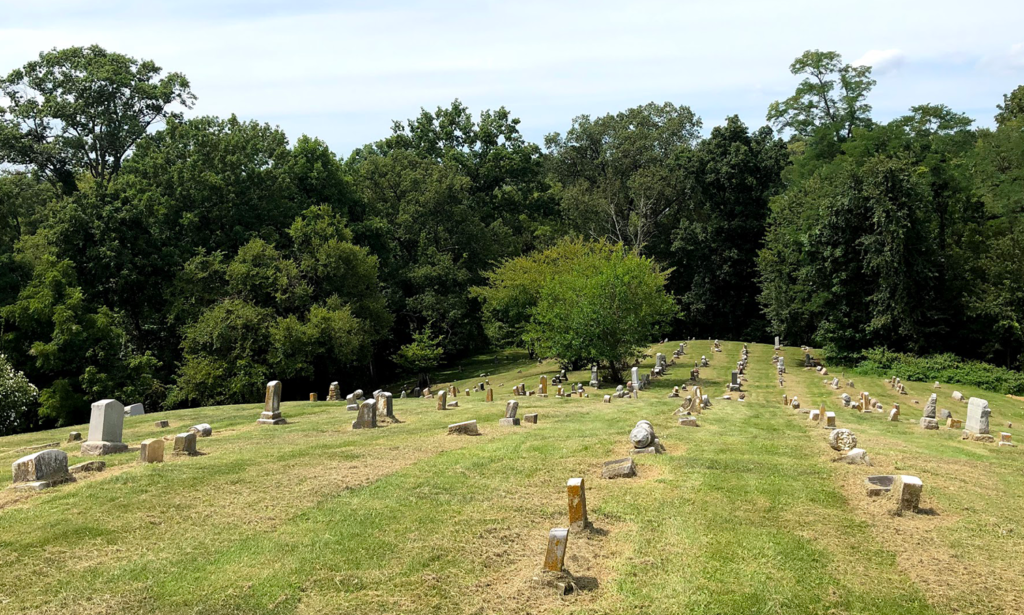 Several African American soldiers are buried at Evergreen Cemetery, including James William Bassett, Beverly "Burl" Driver, Henry McConico, and William Moore, who all served in the Civil War. William Driver, a Birmingham, AL native, was living in Cincinnati and working for the B&O Railroad at the time of the WWI draft. After serving, he died in Newport in 1922. Other African American soldiers, information courtesy of the Kenton County Library, include Martin Baker, Thomas Jefferson, Robert Mitchell, and Thomas Posey.
Unfortunately, finding their gravestones proved to be a challenge. Older records, especially 19th century records, are hard to come by in the cemetery, and they were often incomplete, according to cemetery Superintendent Dave Smith. Dave knows everything about Evergreen; his best guess for locating the gravestones belonging to once so-called Negroes is an area near a small tree on the outer edges of the cemetery. There, many of the names on the gravestones are worn off, and the sections aren't as easy to follow as they are elsewhere in the cemetery. A good reason to go back to the cemetery (with bug spray) and keep looking. 
Aside from visiting Evergreen Cemetery, watching or rewatching Rain Main (much of it filmed in and around Cincinnati) is another great Quarantine Time Activity.
Dave and his crew keep the grounds at Evergreen looking impeccable. If you head up to see Shaler Battery, don't forget: it's on the highest point in the cemetery. Please be advised: There Will Be Hills.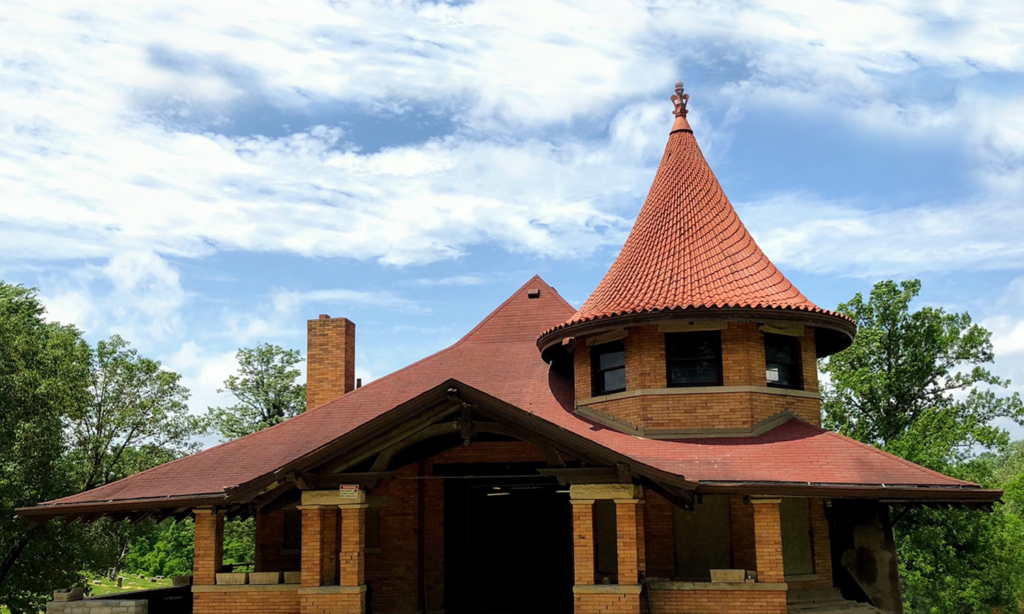 Heather Churchman is an Ohio native, 10-year Covington resident and author of Covington Uncovered on Instagram.