by Karli Wood
photos courtesy of Spring Grove Cemetery image archive
When you're hosting an out-of-town visitor and want to impress them, where do you go? A Reds game? Union Terminal? The Cincinnati Art Museum?
The first place that always comes to my mind is Spring Grove Cemetery & Arboretum. The most common reaction I get is a raised eyebrow with the response, "A cemetery?!"
But Spring Grove is so much more. This veritable "museum without walls," tells the story of Cincinnati – and is where many of its most influential citizens reside.
In the mid-1800s, Cincinnati experienced an aggressive cholera outbreak. Local cemeteries were unequipped to handle the influx of deaths, leaving them crowded and unkempt.
Spring Grove was founded as the antithesis of this. The rolling, picturesque landscape became a destination for residents wanting to get away from bustling city life. With walking paths, stone bridges, islands, and wooded areas, Spring Grove was – and still is – its own Elysian Fields within Cincinnati.
Famed landscape architect Adolph Strauch had a huge part in making Spring Grove a peaceful haven. Strauch implemented a principle called the "lawn plan," encouraging families to have one central large memorial, surrounded by footstones.
As mentioned, many of Cincinnati's elite rest at Spring Grove – and as you walk through the cemetery, you can gain a sense of funerary history and customs. It's like a journey back in time, giving you a glimpse into the lives of these extraordinary people.
Let's explore a few iconic monuments and traditions that you can use as a scavenger hunt on your next visit:
FAMOUS MONUMENTS
Fleischmann Temple – Modeled after the Parthenon in Greece, this Doric temple is best-viewed from across the lake, where you can see it against the trees. It was built for the Fleischmann family – of Fleischmann yeast. The temple features a stained-glass portrayal of the Three Fates.
Dexter Mausoleum – The most iconic memorial in Spring Grove, the Dexter Mausoleum is often compared to Notre Dame, even though it's modeled after Paris' Sainte-Chapelle. The Dexter family were "bourbon barons," in their time. The mausoleum features flying buttresses, spires, and 36 marble catacombs. Its construction would cost approximately $1.7 million in today's money. Despite its grandeur, the mausoleum was never finished due to financial reasons. It was originally meant to feature an elevator and stained glass, which were never installed.
Charles West – An important figure in the founding of the Cincinnati Art Museum, Charles West is one of only a few life size statues in Spring Grove. The striking memorial shows West sitting in repose. The foundation of his memorial is flanked by caryatids of the four major aspects of the arts: architecture, sculpture, painting, and music.
Robinson Mausoleum – The Robinson family-owned Robinson's Circus and made a lasting impact on the city. It was said that you could see their famed elephant Tillie plowing the field near their Terrace Park home. The Robinson's have a number of circus family and staff buried in Spring Grove. This rough-hewn mausoleum features statues of Faith, Hope, and Charity.
FUNERARY TRENDS
Use of Marble – It's rare that marble is used today in monuments and headstones due to its tendency to erode over time. A beautiful example of a marble monument is the Burnet Mausoleum. Senator Jacob Burnet and his family are interred in this unique monument. It is built into a hillside and the facade is Italian marble. Over time, it settled, sealing the doors permanently. The mausoleum originally had three steps, but only two are now visible.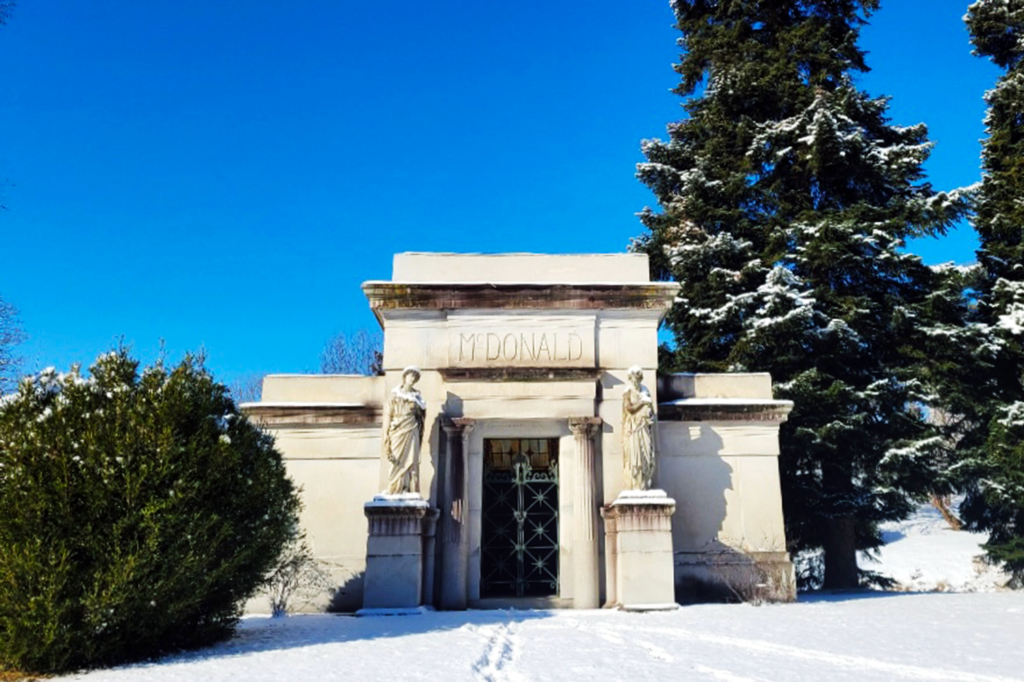 Iconography – Iconography has evolved in cemeteries over time. A wonderful and pristine example of iconography is the McDonald mausoleum. It was built for Alexander McDonald, who was an investor in oil, banking and also served as the director of the Big Four Railroad. The doors of the mausoleum feature multiple bas relief symbols, including a winged heart and flame, a dove, a lamp, and an open book.
Statues – On a walk-through Spring Grove, you will see a large array of statues – everything from angels, busts, lions, a sphinx, and even a mermaid. It wasn't uncommon to feature a statue of a woman in mourning: leaning on headstones or sitting on top of monuments. A fantastic hidden treasure of sculpture is the Gerrard mausoleum. Stephen Gerrard was an inventor known for creating the first refrigerated produce truck. If you walk up to the doors of this mausoleum and peer inside, you will find four marble statues depicting the four seasons.
Perpetual Care – An interesting and often unknown aspect of the cemetery is the idea of perpetual care. When a burial right is purchased, it is considered private property. This means that many of the mausoleums and monuments at Spring Grove are expected to be maintained by the families. The Huenefeld mausoleum is an example of perpetual care, a former option where the family purchased the ability for Spring Grove to maintain the mausoleum over time. This included pressure washing and resealing. The Huenefeld mausoleum remains in outstanding condition. There are rare exceptions where Spring Grove will intervene in the care of a monument. An extreme example was when the cemetery shored up the Dexter mausoleum when it began sliding backward toward the lake.
While the historic sections of Spring Grove serve as a time capsule starting in 1845, this cemetery is still very much an evolving landscape. It features over 700 acres and is still active and serving the local community.
The next time you're itching to discover a unique locale with a friend, choose Spring Grove Cemetery & Arboretum. Despite its evolution of 177 years, it has maintained its status as a destination for reflection, escape, and relaxation. It's far more than a cemetery – it's a place of connection and a celebration of life.
Karli Wood is a volunteer with the Spring Grove Cemetery Docent Program. The mission of the Docent Program is to provide tours and programs focusing on art, history, architecture and horticulture. Through increasing the knowledge, excitement, and understanding of our visitors, the docents can enable the continued stewardship and cultural contributions of Spring Grove Cemetery and Arboretum.
Spring Grove's tour season runs April through October. All public tours can be found in the events section of the website, and registration opens 30 days before each tour/event. Private tours are also offered, and those can be walking or tram, historical or horticultural. Please direct all tour queries to Ruth Reck at 513-853-4941 or rreck@springgrove.org.
Spring Grove also offers a free walking tour app! These self-guided tours start at the Customer Service Center near the entrance at 4521 Spring Grove Ave. and offer 3 options: History and Heritage (3-hour moderate 4-mile hike), Iconography (1.5-hour moderate 1-mile hike) and Stately Trees of the Grove (1-hour light 1.2-mile hike). Available for iPhone or Android.