Did you know Cincinnati has nearly 1,000 walkable public corridors? 
That includes over 500 alleys and 399 public stairs! Cincinnati is actually the 4th leading city for public stairways likely trailing Pittsburgh, San Francisco Seattle and LA.
Many of our alleys and stairs are unmarked either due to missing signage or they have never received signs at all despite the fact that most of them do have names.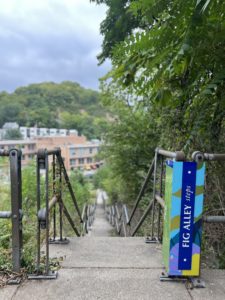 Part of our local Historic Fabric
These important spaces are historic and need our help to protect them. It's important to have proper signage for safety, ease of navigation, neighborhood culture/history and to maintain a sense of place.
"Cincinnati is lucky to have a living museum in public space ," says Christian Huelsman, Founding Executive Director of
Spring In Our Steps
(SIOS) and CPA Policy Researcher. He continues, "For the past 12 years, SIOS has been committed to bringing a brighter future to the city's most neglected public corridors – such as public alleys & stairways – through cleanup, programming, advocacy, and preservation. We promote and improve the pedestrian experience in Cincinnati, focusing upon stairways and alleyways to reconnect communities to its greatest cultural assets."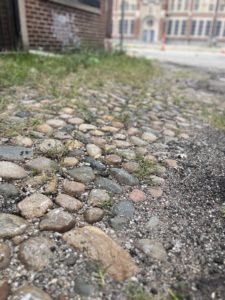 Why Historic?
The City of Cincinnati defines an alley by any public right-of-way that is narrower than 21 feet, and OTR has the largest collectio
n of brick street paving in the
region.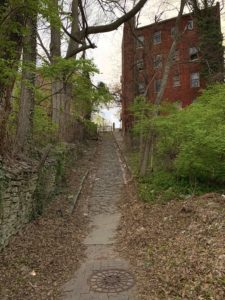 Pitt Alley & Wendell Alley
Pitt Alley (seen above) located on the top part of Vine Street in the Hollister Triangle might have the oldest intact street surface paved with limestone. Dating back to the 1850s or early 1860's, it pre dates bowlders (aka cobblestone). The Alley is still in good condition and is also the steepest alley in the city!
In the 1860's the move from limestone to cobblestone occurred. Cobblestone Alleys like the one seen above on Corn Alley in the West End were built with river stones dredged from river and stream beds (popular which were superior to limestone. Peete Alley, between Mount Auburn and Over-the-Rhine, is a great example that was fully restored by SIOS in 2023.
The 1880's brought Granite Block as seen on Colby Alley in the Mohawk area of Over-the-Rhine.
Brick became popular in the early 1890's. The Alley Act of 1895 put into motion paving alleys with vitrified brick first laid on Main Avenue in Avondale which later became Reading Rd. See Catlin Alley in Prospect Hill for Huelsman's favorite example, although brick alleys are certainly abundant throughout Cincinnati.
Finally, a variation of granite block paving callled Durax was used around 1912 before concrete and asphalt took over.  Durax blocks are half blocks or cubes oriented into a fanned pattern, then the joints were filled with coal tar. These can best be seen at Tiernan Alley just east of Central Avenue and north of Findlay Street.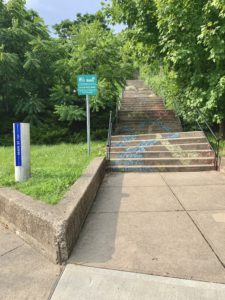 The Main Street stairs (above) are comprised of 354 steps with a rich history. The stairs:
are located at the site of the very first incline railway in Cincinnati
are the first concrete public stairway in the city
have the most risers of any Cincinnati stairway
were built in 1908, and was the longest concrete stairway in the US at that time
remain the longest stairs in Cincnnati to this day.
The Main Street stairs currently have no historic marker.
Recent Wins
SiOS has worked with community and institutional partners, in cooperation with DOTE, to get gateway signage at a total of 16 public stairways. They can be found on both sides of Vine Street Hill, from the Ohio Avenue Steps to the Main Street Steps. In Mount Auburn, SiOS will have successfully leveraged the reopening of the Wendell Alley Steps, as a result of a community petition and garnering support from the community council. It had been closed via community petition in 1995, and it is likely the first public stairway in Cincinnati to reopen after having been closed by petition. Prior to its reopening, work will commence in October-November 2023 to improve the connecting alleys to the stairs.