by Megan Fitzpatrick
Northside is perhaps primarily celebrated for its hip bars and restaurants, its unique Fourth of July Parade, and LGBTQ-friendly community – but it is also known for its relatively inexpensive late 19th- and early 20th-century housing stock, which ranges from modest homes built for industry workers to a few remaining grand manses built for industry titans. Thanks to what was arguably preservation through neglect, you'll find far more century homes than new in Northside, though there are some contemporary houses, including several LEED- gold and platinum contemporary builds. Plus, the walkable neighborhood's 19th-century business corridor remains largely intact.
The community began as a small settlement at the crossing of two Native American trails, but when the building of the Miami and Erie Canal commenced in 1825, there was an influx of people, notably the unruly Irish and German immigrants who helped to dig the canal… and a number of saloons, brothels and beer gardens to keep them entertained. Thus, the area officially known as Cumminsville garnered its "Helltown" moniker.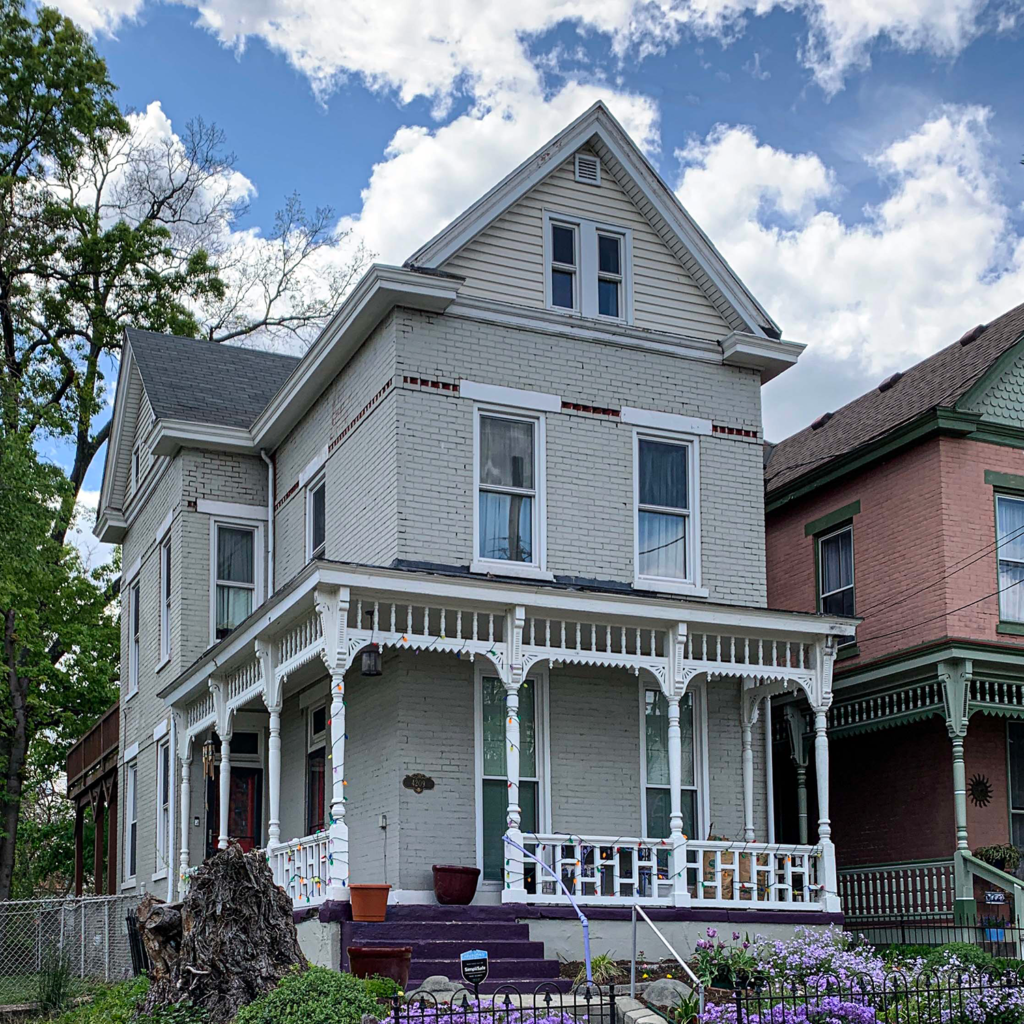 But Cumminsville's bad-boy reputation was short-lived. By 1850, thanks to commutes made easy by the Cincinnati, Dayton and Hamilton Railroad, families began moving to the newly subdivided area, many of them German immigrants. German churches (Lutheran and Catholic), businesses, building societies and beer halls flourished. More industry began to spring up, thus, the influx of residents to continued.
In 1873, Cumminsville was annexed by the city of Cincinnati, and it continued to grow through the 1920s. By the end of the19th century, Knowlton's corner (the intersection of Hamilton Ave., Ludlow Ave., Spring Grove Ave. and Hoffner Str.) was one of the busiest business districts in the city, and affluent businessmen renamed the area "Northside," to denote its location relative to downtown Cincinnati and just north of the rail lines. Many of the houses and commercial buildings that remain in Northside today were built during this time of economic prosperity and population growth, and the architectural styles reflect that, with many fine examples of Italianate, Second Empire, late Victorian, Four Square, Eclectic and Tudor Revival.
Also of note, Cumminsville was active in the abolition movement. The Mill Creek, which borders the west of the community, was a major escape route on the Underground Railroad, and Wesleyan Cemetery, chartered in 1843, was the first integrated cemetery in Cincinnati.
The neighborhood continued to thrive until just after World War II, when, like so many urban areas, well-off residents decamped to outlying suburbs, and most industry moved out as well.
By the 1960s, income levels for residents had dropped significantly; with it, housing demand and property values plummeted. In 1974, the construction of I-74 effectively cut the neighborhood in half, dividing it into North and South Cumminsville. In the 1980s, North Cumminsville became officially known as Northside.
The 1980s saw a first wave of regrowth in Northside, thanks to its attractive housing stock and low property values, and its proximity to downtown Cincinnati and the University of Cincinnati. While the 1990s saw a bit of dip in that renaissance, in the early aughts it rebounded in force. Now, a diverse community of artists, students, young professionals and long-time residents call Northside home.
The now bi-annual Northside House Tour began in 1990 when a group of dedicated resident volunteers organized to show off their vibrant neighborhood. The 2020 event will be broadcast online on Sun 20 Sep; follow this link for free registration. Follow the Northside House Tour on Facebook and Instagram for more neighborhood photos and to stay up to date on the upcoming tour details. 
Megan Fitzpatrick is a Northside resident, freelance writer/editor and woodworker/woodworking teacher, and owner of a micro-publishing business, Rude Mechanicals Press.