Family members of CPA founders gathered for the opening of the exhibition in September of 2014.
As we approached the fiftieth anniversary of the founding of Cincinnati Preservation Association, then known as the Miami Purchase Association, our board of directors wanted to use the occasion to celebrate and honor our founders, increase the public's awareness of the historic resources in Cincinnati and to provide opportunities for the public to become involved in preservation. In addition to increasing the visibility of the organization we also sought to promote historic preservation as a defining feature of Cincinnati, as something that is an integral part of the complete life of the city.   This exhibition was one of the ways we sought to achieve those goals.  The Museum Center at Union Terminal generously offered to host the exhibition and offer advice from their talented staff.  Artifacts from the early work of Miami Purchase, which are in the Museum Center collections, were displayed and added a great deal to the experience of visitors.
The exhibition illustrated the evolution of the preservation movement which placed our current work of neighborhood revitalization within a comprehensive context.  As a long term outcome, we hope the exhibition will help Cincinnati become a leading preservation city, one which builds its revitalization efforts around thoughtful use of its historic buildings.
The gallery was organized into four thematic areas: Founders and Origins, Tools of Preservation, Champaign's to Save Buildings, and Preservation Today.  These themes fit within a chronological order and helped underscore the evolution of the movement from a focus on museum houses and landmark properties to today's more comprehensive view of the role historic resources play in the full life of a city.
A series of events, gallery talks and lectures extended the impact of the exhibition.
We reconnected with founding members, increased membership and increased the public's appreciation for the value historic buildings add to our city.
We were pleasantly surprised at the depth of feeling the exhibition elicited from the public.  Comments in the guest registry were highly supportive and many people added personal preservation related comments.  The exhibition was honored with an award from the Ohio History Connection.
These panels are from an exhibition we organized to celebrate our 50th anniversary.  A timeline of our history is at Timeline of MPA/CPA History.
Thanks to the Cincinnati Museum Center for hosting and helping us tell the story.

Section 1: Origins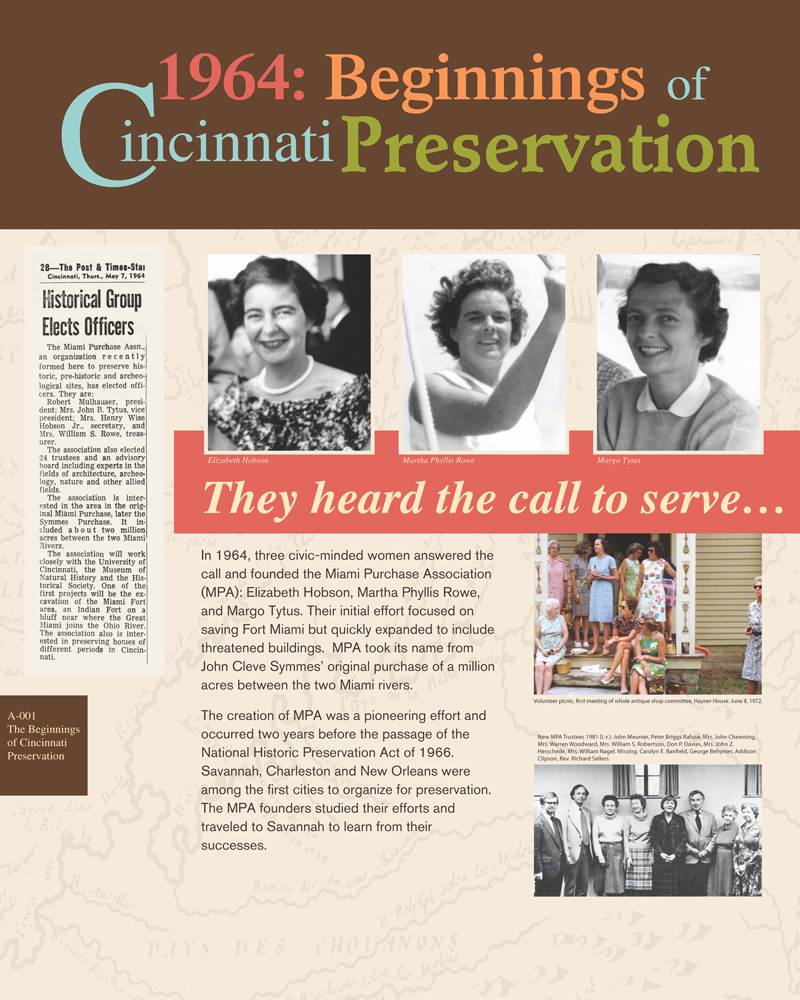 ---
---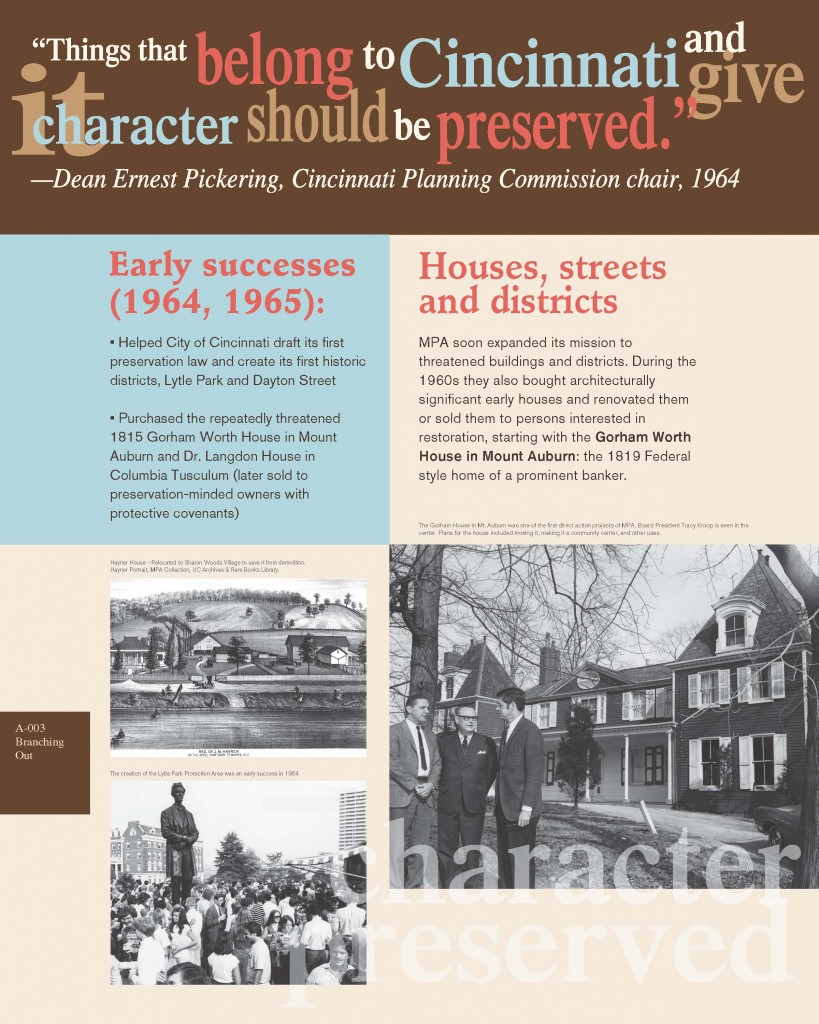 ---
Section 2: Tools of Preservation

---
---
---
---
---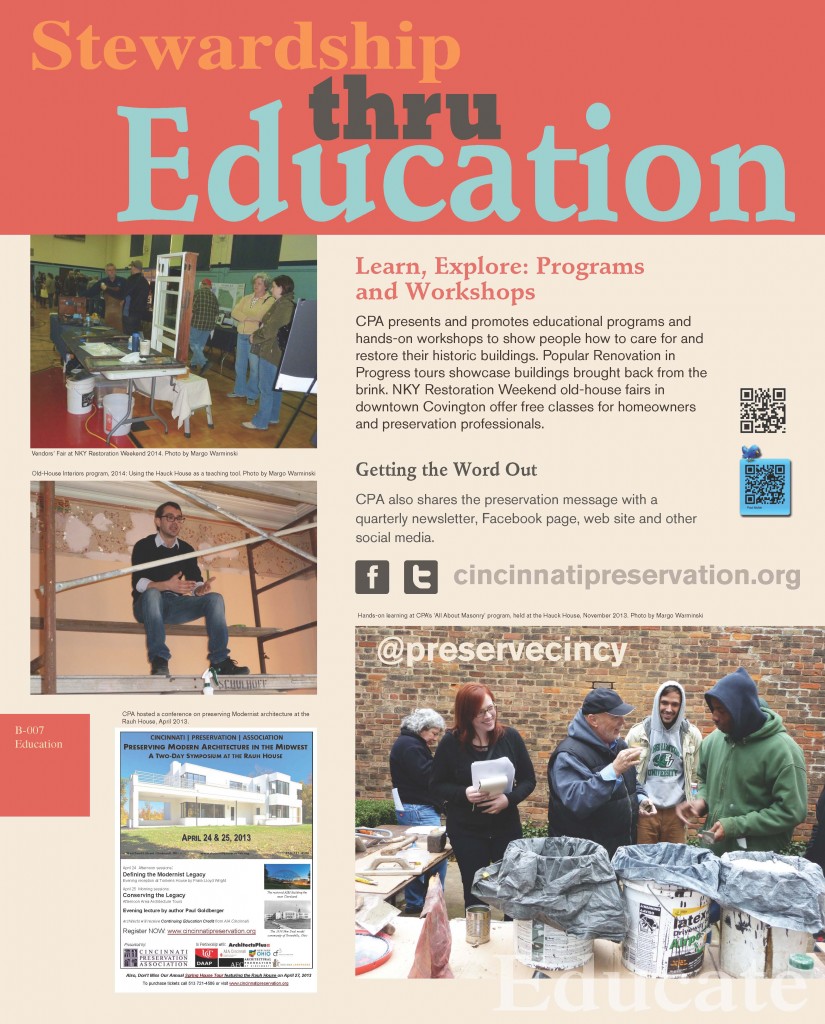 ---
---
---
Section 3: Campaigns to Save Buildings

---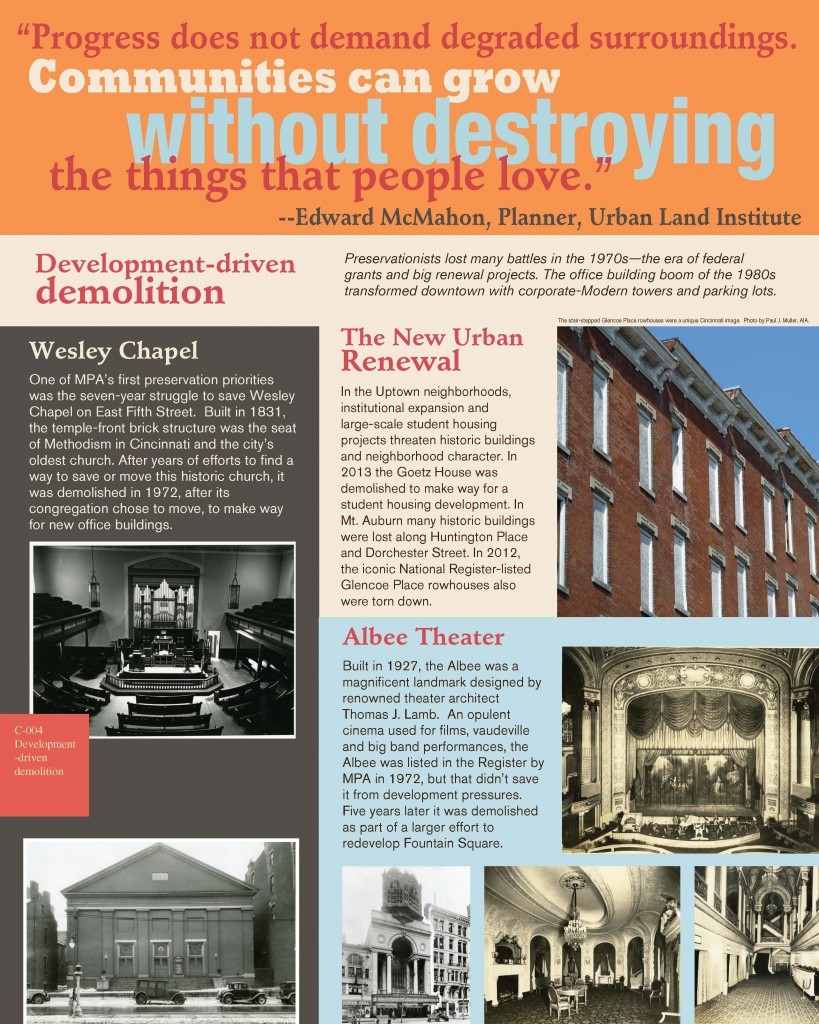 ---
---
---
Section 4: Preservation Today

---
---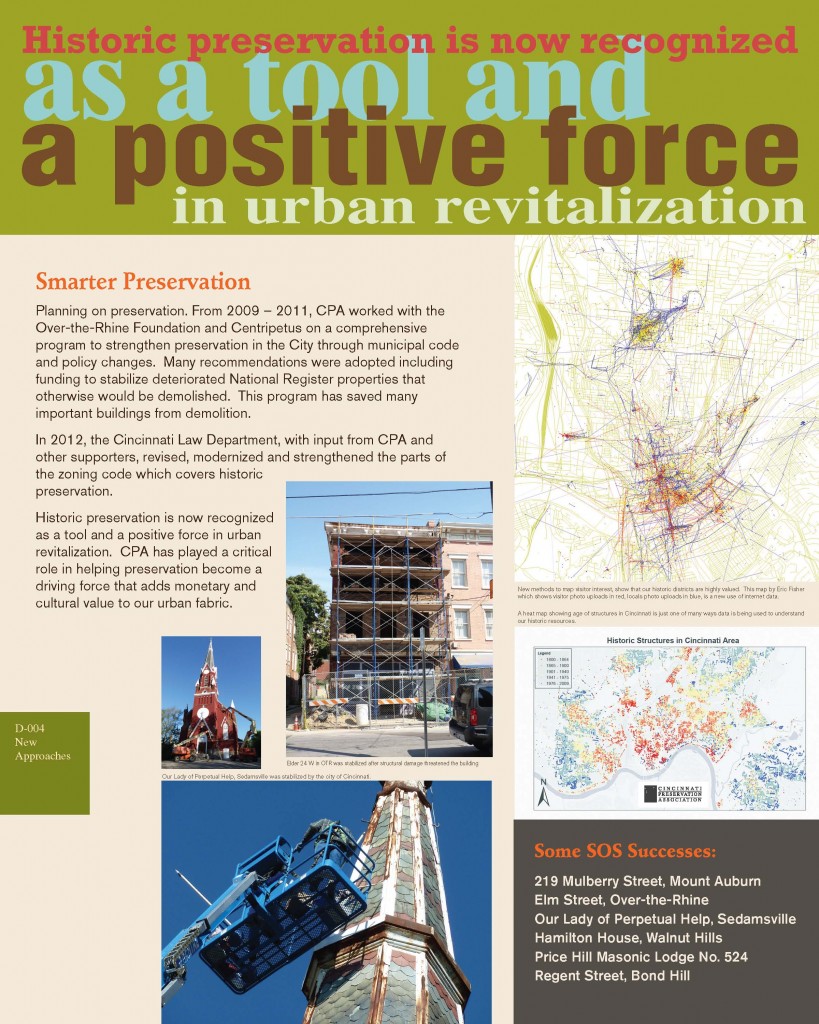 ---
---
---


Timeline of MPA/CPA History

| | |
| --- | --- |
| 1964 | Founding of Miami Purchase Association, first meeting held May 5th |
| 1964 | First Annual Meeting of MPA November 16, 1964 at Taft Museum. |
| 1964 | National AIA Convention held in Cincinnati. A great deal of discussion on preservation of historic buildings and sites located in metropolitan areas. |
| 1965 | Dr. Gustav G. Carlson reports on MAP funded work at Miami Fort. Recommends two additional years of excavations. |
| 1965 | Dayton Street Historical Preservation Area is created by ordinance at urging of MPA |
| 1965 | MPA raises $40,000 in its first full year of operation. This is equivalent to $300,000 in 2014 dollars. |
| 1965 | MPA purchases Gorham Worth House in Mt. Auburn for $21,000 ($150,000 in today's dollars) |
| 1966 | The National Historic Preservation Ac is passed by Congress and signed by President Johnson |
| 1966 | MPA contracts with Ohio Historic Preservation Office to review historic properties as required by the National Preservation  Act of 1966 |
| 1966 | Excavation at Fort Miami continue under Fred Fischer with six students |
| 1968 | John Hauck house on Dayton Street under restoration by MPA |
| 1968 | First Spring House tour is a success, 100 people |
| 1968 | Twenty four buildings, sites and structures have been selected for sample architectural survey |
| 1968 | MPA purchases the Dr. Henry A. Langdon House, |
| 1968 | MPA honors founders: Mrs. Henry W. Hobson, Mrs. William S. Rowe, and Mrs. John B. Tytus |
| 1968 | MPA lists Ben Pittman House on NR, also intervenes in Columbia Parkway widening project to obtain funding for driveway access |
| 1970 | MPA Opens Hauck House as a living museum |
| 1971 | Railpax (later Amtrak) rejects use of Union Terminal due to cost of operations |
| 1971 | MPA debates restoring Lagndon House in place or moving it to Sharon Woods Village |
| 1971 | National Trust holds first even Advisory Council Meeting.  Held in Cincinnati at Hauck House |
| 1971 | Elk Lick House completed as the first relocation to Sharon Woods Village |
| 1972 | Terminal Concourse Future Dim" Drawings show the point where demolition would start for Concourse to trains. |
| 1972 | Oct: Meeting at Queen City Club, 40 people attend sense is 1. Terminal, whole ought to be saved, self-supporting, has to be done fast. delegates to ask Mayor Luken to appoint a citizens committee to find a way to save it all |
| 1972 | City forms "Task Force to Save Union Terminal"  with 23 members to relocate 14 murals and save the Rotunda for private and public use. Alfred Moore appointed to lead "Save the Terminal, Inc. |
| 1972 | Wesley Chapel is Demolished |
| 1973 | Two murals moved to Airport, Murals prepared for transfer from terminal to airport" Post 8/14/73 ; "All concourse murals saved" Post 10/3/1973 ; "Terminal wins designation as historic site" Post 4/21/73 |
| 1973 | Demolition of Union Terminal Concourse scheduled for May 1973.  Airport agrees to include Murals in new terminals |
| 1973 | City of Cincinnati) passes ordinance establishing Architectural Board of Review, They serve in part as a Historic Conservation Board |
| 1973 | MPA began talks of graduate program of restoration-preservation wihtin the Department of Architecture at UC, |
| 1973 | City introduces ordinance to protect buildings of unusual historic value or architectural merit. |
| 1974 | Sold Gorham Worth House – Funds used to repair Langon House on Eastern Avenue |
| 1975 | City buys Union terminal and 14 acres for $1 Million  Plan for SORTA maintenance center and School for Creative and Performing Arts |
| 1975 | Music Hall completes a major renovation |
| 1975 | MPA became the regional office to facilitate the administration of the National Register program and Ohio Inventory |
| 1977 | MPA receives its first Easement,  for "Ashlea" in Glendale |
| 1977 | Name changed to Miami Purchase Association for Historic Preservation |
| 1979 | Union Terminal renovated to be a Loehmanns designers discount center and entertainment mall |
| 1981 | City enacts revised Historic Conservation Ordinance, MPA gives up its contract with OHPO, that work will now be done by the City. |
| 1982 | Archaeological excavation in Queensgate II & co-sponsoring seminars with the Smithsonian Institution |
| 1982 | MPA contracts with Hamilton County to conduct an archeological and historic architectural survey |
| 1983 | Bob Genheimer, MPA staff archeologist, working at Hopewell site in Warren County |
| 1984 | Miami Purchase Preservation Fund (MPPF) working on five houses on Freeman Street |
| 1984 | MPAHP creates a separate organization to be a Museum Corporation |
| 1985 | City forms the Union Terminal Association, a top rated concept of museum is identified. Cincinnati Historical Society, Cincinnati Museum of Natural History Heritage Center possibility as Union Terminal, Bruce Geotzman chairs search committee. |
| 1986 | Union Terminal Association leases terminal, Hamilton County Issue 3 passes providing $33 million to convert Union Terminal into a museum.  The State of Ohio contributed $8 million and the City of Cincinnati also $3 million. |
| 1988 | MPA Leases Memorial Hall from Hamilton County |
| 1989 | 25th Anniversary Celebrated at Memorial Hall |
| 1990 | Museum Center Opens at Union Terminal |
| 1990 | First Symphony Chamber Players concert in Memorial Hall draws 400 people. |
| 1992 | Name changed to Cincinnati Preservation Association |
| 1992 | Memorial Hall Theater restoration is complete |
| 1996 | CPA moves its office to 342 West 4th St |
| 1999 | City Historic Conservation Board wins court fight on demolition on West 5th Street. MPA filed friend of court brief |
| 2001 | City designates Over-the-Rhine North |
| 2003 | Partners for Sacred Places training hosted by CPA |
| 2010 | Preservation Leadership Training held in Cincinnati |
| 2011 | Pinecroft, the estate of Powel Crosley, Jr. is donated to CPA by Mercy Health |
| 2012 | Sedamsville Village Historic District successfully nominated to National Register by CPA |
| 2013 | CPA working with the Land Bank on Stabilization of Historic Structures |
| 2013 | Preserving Modernism in the Midwest Symposium held in the Rauh House |
| 2013 | Rauh House restoration wins preservation award from Ohio History Connection |
| 2014 | Sale of the restored Rauh House |
| 2014 | Union Terminal sales tax levy passes, largest preservation funding by voters in the country |
| 2014 | November 8, CPA Celebrates 50th Anniversary at the Renaissance Cincinnati in the Burnham Hall, a project CPA helped to obtain historic  tax credits |
| 2015 | CPA history exhibit wins award from Ohio History Connection |
| 2015 | CPA Executive Director Paul Muller joins UTRAC, the advisory team for Union Terminal renovation |
| 2015 | 1706 Lang Street saved by City and Land Bank with help from CPA |